Resources
We provide you with all resources, downloads, and important information you need to successfully implement LANCOM Wireless ePaper Displays into your individual network infrastructure.
Note: LANCOM Systems does not guarantee that the applications described here and the Wireless ePaper system can be operated in any network infrastructure without restriction.
Note: The scripts as listed here are directed at experts! They describe systems of a certain software version and are thus only serve illustration purposes. The provided files include codes and meeting room templates. You can either use the files as they are or edit them according to your needs.

Scripts and codes for Office 365
Scripts and codes for IBM Notes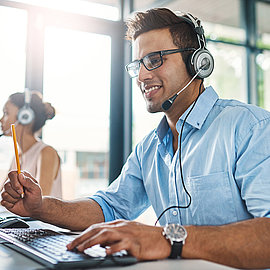 Most questions can be resolved best in direct contact: We look forward to answering your questions and requests by phone or via the contact form.
Inside Sales International Team
+49 (0)2405 49936 122