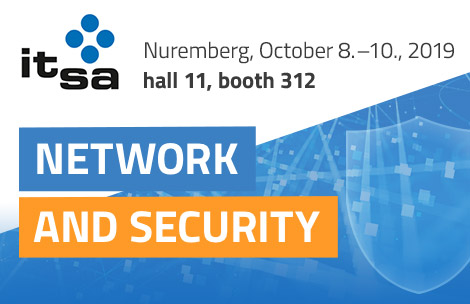 LANCOM and Rohde & Schwarz Cybersecurity
Together at it-sa 2019
A year ago, we were still presenting our goal as our vision. At this year's it-sa, you can experience it live: highly integrated networking and security solutions from a single source – for conventional networks and cloud architectures alike.
Network and security – classic & cloud managed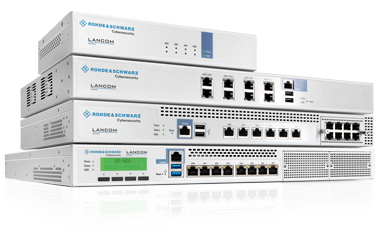 With LANCOM R&S®Unified Firewalls, we've added an important feature to the LANCOM portfolio: cybersecurity.. The easy-to-use, all-in-one solutions ensure maximum security thanks to state-of-the-art security technologies and unified threat management (UTM).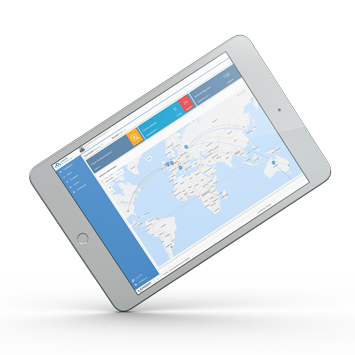 With ongoing digitalization, conventional networking technologies are being increasingly replaced by SDN ("software-defined networking"). In LANCOM networks, the LANCOM Management Cloud – as an intelligent, hyper-integrating control center – can provide WAN, LAN and WLAN functions in the cloud via software-defined networking (SDN).
Premiere at it-sa:
LANCOM R&S®Unified Firewalls are "cloud-ready" and can now be integrated in the holistic management offered by the LANCOM Management Cloud (LMC). This means that the entire LANCOM networking portfolio, consisting of routers, switches, access points – and now firewalls, too – can be managed via a uniform, intuitive cloud-management system. An important step within the LANCOM SD-SECURITY solution!
Rethinking industries: Tailor-made. Field-proven. Made in Germany.
With a great deal of experience under our belts, we offer custom-fit industry solutions for specific requirements in the areas: Public, Healthcare, Retail, Logistics and Hospitality.
Our expertise is convincing. See for yourself by learning about numerous implemented projects that we'd be pleased to present to you personally.

Rohde & Schwarz Cybersecurity trade fair highlights
Rohde & Schwarz Cybersecurity is showcasing the following solutions at our joint fair stand:
Innovative data security solutions for cloud environments
Extended security for websites, web applications and web services
Network encryption
Endpoint protection (encrypted remote data link, encrypted hard drive and secure web browser)
Mobile security
You're also invited to hear experts from Rohde & Schwarz Cybersecurity speak on the subjects:
Tuesday, October 8, 1.45 pm, Forum 11
Secure working on multi-cloud platforms – example: Microsoft Teams
Fabian Richter, Rohde & Schwarz Cybersecurity
Wednesday, October 9, 11 am, Forum 11
Effective endpoint protection for laptops, desktops and mobile devices
Clemens Schulz, Rohde & Schwarz Cybersecurity
Thursday, October 10, 11 am, Forum 11
Web application security as effective protection against hacking
n.n., Rohde & Schwarz Cybersecurity
Exclusively for participants in the LANcommunity Partner Program
An absolutely TOP offer awaits all LANCOM Partners – exclusively – at the fair booth: your own personal, free, unlimited NFR project in the LANCOM Management Cloud.*
You're not yet a LANCOM Partner? Register now, free of charge, for the LANcommunity Partner Program, for the best reseller support, deal registrations and project protection, demo devices and much more …
*This NFR license has no time limit and covers an unlimited number of devices in a project for internal use and demonstration purposes. The offer is available once for every LANCOM Partner.
Request your complementary ticket today and find out more about our new products in personal conversation.
We look forward to seeing you there!