LANCOM 1926VAG
The powerhouse for your SD-WAN
This high-end router for the first time combines two VDSL Supervectoring modems in just one device for a bandwidth of 2x 300 Mbps by using both connections at the same time. The router alternatively operates on a G.fast gigabit connection. Equipped with state-of-the-art SD-WAN technology for secure and automated VPN site connectivity, the LANCOM 1926VAG is the top-class solution for medium-sized and large branch infrastructures.
Two VDSL Supervectoring modems (operable in parallel), alternative use of a modem at a G.fast connection, 1x SFP/TP, 1x WAN Ethernet
Load balancing for the active/active operation of several Internet access connections and maximization of the available bandwidth.
25 simultaneous IPsec VPN connections (100 optional)
Network virtualization with up to 64 networks on one device (ARF)
SD-WAN – automatic VPN and VLAN configuration via the LANCOM Management Cloud
2x ISDN S0, 4x analog (internal) / fax
Professional telephony features thanks to integrated LANCOM VCM (Voice Call Manager) / SBC (session border controller)
Full-metal housing for mounting in a 19" rack and integrated 230V power supply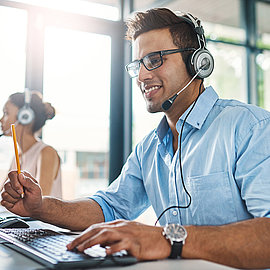 Most questions can be resolved best in direct contact: We look forward to answering your questions and requests by phone or via the contact form.
Inside Sales International Team
+49 (0)2405 49936 122