LANCOM Config Service
The LANCOM Config Service provides you with expert support in configuring your LANCOM devices or network infrastructure for maximum performance of your installation. You can obtain our know-how in two possible ways – either during a remote session or by a LANCOM employee visiting you directly on-site.
Individual adaptation of the existing configuration with LANCOM products according to your requirements
For all LANCOM products
LANCOM Config Service Remote:
Configuration support by telephone, e-mail or remote session (billing per 60 minutes, optional extension if required, by appointment)
LANCOM Config Service On-site:
Implementation and extension of the configuration by LANCOM on-site (billing per day, max. eight hours per day, by appointment)
We will contact you to request detailed information about your configuration request. When you make the appointment, the LANCOM employee will give you a non-binding time estimate. If required, several LANCOM Config Services can be booked in succession. Please note that additional expenses will be incurred in the LANCOM Config Service On-site.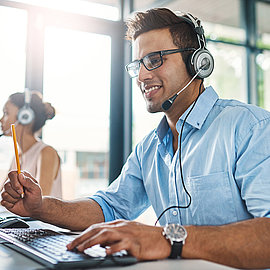 Are you interested in one of our service and support products?
Request here:
If you need any further help do not hesitate to contact our support team:
LANCOM Support Team
+49 (0)2405 49936 210