LANCOM LX-6200
Fast Wi-Fi 6 for small and medium user densities
With the LANCOM LX-6200, you get high-throughput performance from the latest Wi-Fi 6 generation. This makes it the ideal device wherever the fastest Wi-Fi is needed for a small to medium-sized number of users, such as in hotels, smaller offices, medical practices, or branch offices. The integrated USB interface (2.0) also provides the basis for integrating IoT wireless systems into existing WLAN infrastructures.
Dual concurrent Wi-Fi – parallel operation at 2.4 GHz and 5 GHz with Wi-Fi 6 (IEEE 802.11ax)
2x2 multi-user MIMO for simultaneous beam-steering for multiple clients in down- an uplink mode
USB 2.0 port for connecting wireless IoT systems
5.1 Bluetooth Low Energy radio module for innovative beaconing applications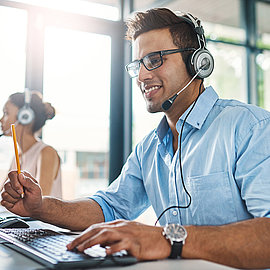 Most questions can be resolved best in direct contact: We look forward to answering your questions and requests by phone or via the contact form.
Inside Sales International Team
+49 (0)2405 49936 122