LANCOM GS-4554X
Stackable full layer 3 multi-Gigabit access switch
In enterprise networks with a high number of components, this fully managed multi-Gigabit access switch is a reliable solution thanks to its full layer 3 functions with high-performance uplinking and stacking. At the same time, the extensive port equipment according to industry standards offers enormous performance even at high workloads. Pro­fessional redundancy functions and LANCOM fail-safe stacking ensure fail-safe operation. In addition, this switch is covered by the LANCOM Limited Lifetime Warranty (LLW). Its configuration is automated via the LANCOM Management Cloud.
Multi-Gigabit access switch with 12x 2.5 multi-Gigabit Ethernet ports, 36x 1 Gigabit Ethernet ports, 4x SFP+, and 2 QSFP+ ports
Full layer 3 functionality with policy-based dynamic routing and DHCP server function
Backplane stacking optionally (SW-defined) via SFP+ or QSFP+ FleX ports
1x hot-swappable PSU plus separate bay for adding a second PSU
2x fixed, redundant fans (N+1)
Front-to-back ventilation design for optimal cooling in 19" racks
Cloud-managed LAN and switch stacking for quick configuration and convenient management via the LANCOM Management Cloud
IPv6 and IPv4 support for modern enterprise networks
Includes security updates for 5 years after End of Sale and major releases for 2 years after End of Sale
Limited Lifetime Warranty (LLW) included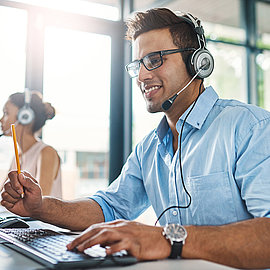 Most questions can be resolved best in direct contact: We look forward to answering your questions and requests by phone or via the contact form.
Inside Sales International Team
+49 (0)2405 49936 122