According to the Federal Ministry for Economic Affairs and Climate Action (BMWK), "Digital sovereignty is an issue of great relevance. The supply bottlenecks of computer chips were a reminder of how quickly dependencies on non-European producers can slow down important economic sectors, such as the automotive industry."
We also see digitilization as an opportunity for Germany and Europe to strengthen their own competencies and cooperations. In this way, we can consolidate our position in technological areas. The BMWK explicitely sees a need for action in "...digital technologies such as network technologies, microelectronics, security technologies, quantum technologies and blockchain." Here, European competencies are to be maintained and expanded.
We understand digital sovereignty as the ability to decide for ourselves what we do. This includes decision-making competence, the ability to act, and the ability to assess the risk posed by dependencies. According to the bitkom definition, a digitally sovereign company can decide self-determinedly and self-confidently between alternatives of competent and trustworthy partners.
This distinguishes digital sovereignty from digital dependency – a state that is probably not desirable for any company – and digital autarky. The latter is generally not feasible in our globalized world.
We want to strengthen digital sovereignty in Europe together!
As CEO of the only German IT network manufacturer, I would like to emphasize the importance of a digital ecosystem that can be operated securely and autonomously. The past few years in particular have been characterized by uncertainty and disruption, and have made many companies aware of how dependent our economy is on global supply and value chains. That is why we must see it as our task to work on a more sovereign Europe, especially in the field of key technological sectors.
Ralf Koenzen
Managing Director LANCOM Systems
Handelsblatt study digital sovereignty
In spring 2023, we completed a joint study with Handelsblatt. A total of 1,000 IT managers were surveyed across the four areas – hardware, software, data and IT security. The result: across all four areas, dependence on non-EU manufacturers predominates – e. g., on the topic of hardware, 24% see a "strong dependence" and 41% a "medium dependence". This is a clear signal for all of us to set more priorities here. After all, 70% of the IT professionals surveyed in our current study rate the importance of digital sovereignty as "very high" or "rather high".
Get the complete study for free
Notice: The study language is German only.
Digital Sovereignty helps us to maintain and develop our business in a self-determined, secure, and independent manner. It is a general approach covering the areas of hardware, software, data, security, digital platforms, and artificial intelligence. In general, we all should put an emphasis to strengthen our independence from (non-European) countries in terms of supply chains, resources, software, hardware, and IT-security.
The EU Commission's communication 'Digital compass 2030: a European way forward for the digital decade' of 9 March 2021 presented the vision for a digitally transformed Europe by 2030 in line with European values. The EU's ambition is to be digitally sovereign in an open and interconnected world embracing empowered citizens and innovative businesses in a human-centred, inclusive, prosperous, and sustainable digital society.
Even more the EU Council adopted legislation for a high common level of cybersecurity across the Union, to further improve the resilience and incident response capacities of both the public and private sector and the EU as a whole. NIS2 will set the baseline for cybersecurity risk management measures and reporting obligations across all sectors that are covered by the directive, such as energy, transport, health, and digital infrastructure.
Source: Consilium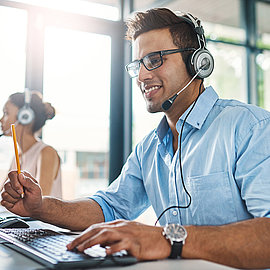 Most questions can be resolved best in direct contact: We look forward to answering your questions and requests by phone or via the contact form.
Inside Sales International Team
+49 (0)2405 49936 122