LANCOM XS-6128QF
This 10G aggregation switch is a high-performance distribution base for subordinate access switches and offers the highest operational efficiency and reliability. Its full configuration of 20 SFP+ ports (10G) – including 4 mGbE (1G/2.5G/5G/10G) combo ports – and FleX uplink ports with up to 200G uplink capacity guarantees flexibility and investment protection. In addition, the professional PSU redundancy, hot-swappable fan modules and backplane stacking of up to 400G bandwidth ensure fail-safe operation. Management is automated via the LANCOM Management Cloud (SD-LAN) or via Web-GUI and CLI.
Multi-Gigabit aggregation switch with 20x 10G downlink ports of which 16x SFP+ and 4x multi-Gigabit comboports (SFP+ / 1G/2.5G/5G/10G nBASE-T), plus 4 additional SFP+ ports when using SFP+ modules in the 4x SFP28 ports
FleX uplink ports (4x SFP28 (10G/25G) or 2x QSFP+ (40G))
Non-blocking backplane stacking via 4 dedicated SFP-DD-FleX ports
Full layer 3 functionality through VRRP, DHCP, static and policy-based dynamic routing via OSPF v2/v3 and BGP4
Redundant hot-swappable PSU and 2 hot-swappable fans for maximum reliability
Front-to-back airflow for optimal cooling in 19" racks
Security with configurable access control on all ports as per IEEE 802.1X and access control lists
Secure remote management through TACACS+, SSH, SSL, and SNMPv3
Cloud-managed LAN and switch stacking for quick configuration and convenient management via the LANCOM Management Cloud
Includes security updates for 5 years after End of Sale and major releases for 2 years after End of Sale
Limited Lifetime Warranty (LLW) included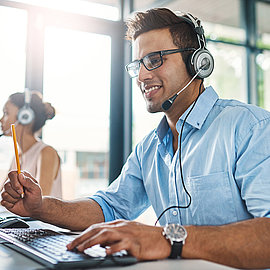 Most questions can be resolved best in direct contact: We look forward to answering your questions and requests by phone or via the contact form.
Inside Sales International Team
+49 (0)2405 49936 122