LANCOM XS-6128QF
This 10G aggregation switch is a high-performance distribution base for subordinate access switches and offers the highest operational efficiency and reliability. Its full configuration of 20 SFP+ ports (10G) – including 4 mGbE (1G/2.5G/5G/10G) combo ports – and FleX uplink ports with up to 200G uplink capacity guarantees flexibility and investment protection. In addition, the professional PSU redundancy, hot-swappable fan modules and backplane stacking of up to 400G bandwidth ensure fail-safe operation. Management is automated via the LANCOM Management Cloud (SD-LAN) or via Web-GUI and CLI.
Multi-Gigabit aggregation switch with 20x 10G downlink ports of which 16x SFP+ and 4x multi-Gigabit comboports (SFP+ / 1G/2.5G/5G/10G nBASE-T), plus 4 additional SFP+ ports when using SFP+ modules in the 4x SFP28 ports
FleX uplink ports (4x SFP28 (10G/25G) or 2x QSFP+ (40G))
Non-blocking backplane stacking via 4 dedicated SFP-DD-FleX ports
Full layer 3 functionality: VRRP, DHCP, static and policy-based dynamic routing via OSPF v2/v3 and BGP4
Redundant hot-swappable PSU and 2 hot-swappable fans for maximum reliabilit
Front-to-back airflow for optimal cooling in 19" racks
Security with configurable access control on all ports as per IEEE 802.1X and access control lists
Secure remote management through TACACS+, SSH, SSL, and SNMPv3
Cloud-managed LAN and switch stacking for a convenient management via the LMC
Includes security updates for 5 years after end of sale and major releases for 2 years after end of sale
Limited Lifetime Warranty (LLW) included
Limited Lifetime Warranty (LLW): Hardware warranty until the End of Life status of the device (maximum 10 years)
Security and feature updates within the LLW
Technical manufacturer support as part of a support contract
(LANcommunity partner, LANcare Direct, or LANcare Premium Support)
Click below to get more information as well as the item numbers for convenient additional booking.

…
Click below to get more information as well as the item numbers for convenient additional booking.
Notes: Times are given in hours (h) or minutes (m) per days (d). The products are available for different service categories (S, M, L, XL) as well as validity and can be easily added using the item numbers. The service category of each LANCOM device can be found in the LANCOM price list.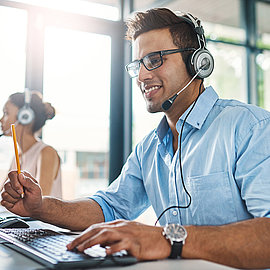 Most questions can be resolved best in direct contact: We look forward to answering your questions and requests by phone or via the contact form.
Inside Sales International Team
+49 (0)2405 49936 122