Product ideas, strategic market plans, innovative technical solutions, personal or financial information; there is plenty of data in the sector of small and medium-sized enterprises (SMEs) that deserves special protection. Unfortunately, it is also a fact that cybercrime makes the need for protection extremely urgent: Many companies have at least once in their history been confronted with some kind of theft of IT hardware and data, espionage, and sabotage!2 The situation is not expected to improve; quite the opposite.
But however disturbing it is, this news should not discourage any move of business processes into the digital space: With professional information security typical areas of attack can be fully secured – including everyday remote access to the company network with a wide variety of devices, some of which are private, and the cloud-based processing of business data.
As a German specialist for information security and a member of Bitkom and the "Alliance for Cyber Security", and as the bearer of the "IT Security made in Germany" trust mark, we are happy to provide you with some tips on how to best protect your business operations.
Put information security on the agenda
Digital business models, modern work methods ("work from anywhere"), or the use of AI – every business decision concerning digital transformation requires the IT network for data transfer. In turn, this demands at least an impact assessment with regard to security. A competent IT department will be proactive, will provide information, and suggest countermeasures. But for managers not to have this topic on their agenda would be naïve. Without a functioning and secure IT network there can be no data transfer, which would be the end for future-proof digital business processes.
After all, cyber crime affects the existence of companies by hitting them in the most sensitive places. The financial consequences can be devastating.
Loss of sales due to the disruption or complete failure of business operations

Endangered business model through the theft of intellectual property and the disclosure of trade secrets

Impact on business partnerships by infecting downstream networks or disrupting the supply chain

Loss of customer trust due to theft of third-party data

Loss of regular customers due to delays

Damage to reputation if unprofessional incidents are made public

Liability and fines resulting from data-protection violations or lack of prevention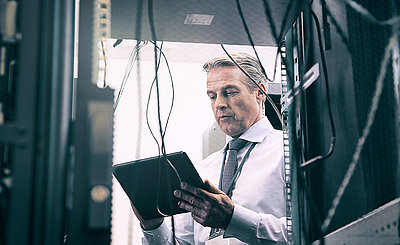 Essentially, these are three things to do: Identify, inform, intervene. Your own company network needs to be checked for vulnerabilities and the primary areas for action must be identified. You should then get up to speed on the subject of information security and provide suitable training to all of your employees. As soon as a good level of information is reached, it's time to get down to business: The necessary security policy and measures are implemented to protect your company from business-critical cybersecurity incidents. Once your IT network has the requisite level of security, nothing stands in the way of secure digitalization.
Identify fields of action in corporate security
The need for action by many SMEs is acute. And although it may be urgent, you need to keep a cool head and take a structured approach in the planning of elementary security components.
As anyone would agree, the top issue of any IT security strategy is IAM, or identity and access management. This ensures that only authorized devices and users can access the company network and sensitive company data.4
Know exactly what protection your business needs
The best protection is extensive knowledge of information security. Make sure that you are aware of the latest security requirements for SMEs. With the increasing use of cloud-based applications and decentralized work from home offices and other locations, it is no longer secure enough to provide a "hard shell" of protection from the outside with a soft interior where everyone is allowed to do everything.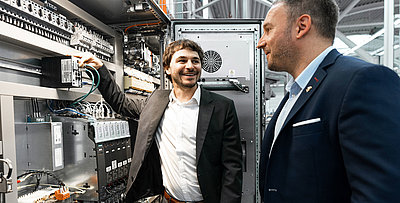 Modernize and, if necessary, transform security measures
Protecting the IT network requires technical and organizational precautions to guarantee the confidentiality, integrity, and availability of data and systems within a network. This includes conventional security measures such as anti virus and the separation of IT network segments.
A modern concept is the zero-trust approach. This no longer differentiates between the Internet and protected areas with trusted users. Instead, every device, every user, and every service is identified and given access to designated resources – regardless of whether the relevant data is on a local server or in the cloud.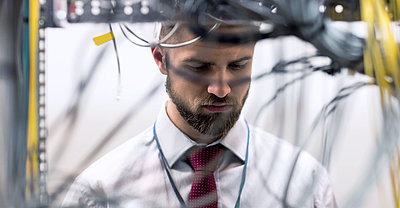 Since its founding in 2002, LANCOM Systems has not only had to face the challenges of digital transformation itself, but above all has accompanied numerous other medium-sized companies in their digitalization in a spirit of partnership and trust.
We know first-hand how complex this task is and that it has to be solved individually. Get to know a partner who is in the same boat, in the same time zone, and in the same jurisdiction area! Together we will digitalize your company in a way that suits your purposes. We look forward to hearing your story and sharing ours with you.
A decision to be made at management level or by the CIO is whether to keep the company's own IT resources free for company-specific tasks and to hire a partner who is specialized in security. Support with the implementation of the technical and organizational measures for the redesign of network and IT security is often available from manufacturers of IT network and security infrastructures, or from specialized service providers.
Digitalization in medium-sized companies – a process
The digital transformation of medium-sized companies is not an easy undertaking, but one that is worthwhile: Digitalized companies have a clear competitive advantage. A high-performance and secure IT network is the foundation for reliable business operations and future-proof growth, and it protects companies from damaging cyberattacks.
Digital platforms, services, and working methods (smart working) improve communication and numerous processes, thus increasing productivity and revenues. Those who cleverly use the digital world to their own advantage demonstrate strong brand awareness and bind customers to their own company in a more long-term and satisfying way.
Learn everything you need to know to go through this process safely and at your own pace and scale on our topic pages. Let's tackle your digitalization together!
Identify my digitalization potentials together with LANCOM now
A change in the security situation, the increasing use of cloud-based applications, decentralized production, and home-office working require the IT network architecture to adopt the "zero trust" principle.
As an established European manufacturer, LANCOM Systems supports this process with an integrated IT network solution consisting of software, hardware, and cloud-based network management.