Rack Unified Firewalls
Phishing, advanced persistent threats, DDoS attacks... The threat situation for companies is getting more serious every day. Especially growing, distributed enterprises with demanding networks and high data volumes need powerful security technologies. With the rack models of the next-generation firewalls (NGFW) and Unified Threat Management (UTM), you rely on a holistic security solution. With the "One-Click Security" concept of the LANCOM Management Cloud, precisely tailored security architectures are implemented in an automated, transparent, and uncomplicated manner. All LANCOM R&S®Unified Firewalls are developed in Germany and guarantee freedom from backdoors.
Next-generation IT security through UTM "Engineered in Germany" and guaranteed freedom from backdoors for protection against spam, viruses and malware as well as cyber attacks
State-of-the-art security techniques such as R&S®PACE2 Deep Packet Inspection and SSL Inspection
Preventive security against as yet unknown threats through integrated Sandboxing and Machine Learning
Custom application and filter rules for increased security via Application Management and Content Filter
Convenient firewall management via intuitive Web interface, LANCOM Management Cloud, or LANCOM R&S®UF Command Center
LANCOM UF Extension Modules for port expansion and maximum flexibility available separately
Also available as a virtual, software-based firewall (LANCOM vFirewall)
Operation in a high-availability cluster (HA cluster) possible without additional costs or licenses
Runtime-based licensing model (1, 3, or 5 years)
Our security pledge: next-generation security with UTM
With threats to networks constantly growing, trusted security is anything but a given. As the keystone of network security, next-generation firewalls (NGFW) combine common security mechanisms with the latest generation technologies. In the triad of security, compliance, and usability, the top priorities are effective protection of your network and maximum prevention against threats that are not yet known – this promise applies without restriction to all LANCOM R&S®Unified Firewalls, regardless whether they are desktop or rack models. All LANCOM R&S®Unified Firewalls are developed in Germany, are guaranteed to be free of hidden access options (backdoors), and thus bear the trust mark "IT Security made in Germany".
Powerful: convincing firewall performance
Large and distributed enterprises as well as schools have particularly high demands on the data throughput of firewalls. Even in large IT infrastructures, our high-performance, future-proof rack models of the LANCOM R&S®Unified Firewalls impress with high and concentrated data volumes. For maximum flexibility, you can add additional ports to the Rack Unified Firewalls with optional expansion modules and thus individually adapt them to your network requirements.
Concise: intuitive usability
Especially in large networks of enterprises and schools with numerous firewall rules, simple firewall management is valuable. That is why the LANCOM R&S®Unified Firewalls offer an intuitive "easy to use" operating concept that focuses on a clear, graphical representation of your settings. This not only minimizes potential sources of error, but also saves a lot of time on troubleshooting. As a result, the firewalls enable a stress-free working life in which you can concentrate fully on your business – without worrying about network security.
Clever redundancy: LANCOM R&S®Unified Firewall UF-760
Better safe than sorry: the LANCOM R&S®Unified Firewall UF-760 protects your operation with storage and power supply redundancy. On the one hand, this ensures that the device can continue to function smoothly even if one power supply unit fails. In addition, multiple storage of data ensures simple and fast recovery in the event of deletion or damage.
Convenient firewall management tools
Three management tools are available for central management and monitoring of the LANCOM R&S®Unified Firewalls: A graphical Web interface supports you with clear dashboards for the detailed configuration of your firewalls, while the LANCOM Management Cloud manages all devices, networks, and configurations in a highly automated way for cloud-managed security. The LANCOM R&S®UF Command Center also allows centralized management of many firewalls.
Tutorial videos for firewall configuration
Despite a state-of-the-art security architecture, 99% of all security breaches are caused by misconfiguration of the devices used. To help you guard against this, our step-by-step tutorials provide you with helpful tips for setting up your LANCOM R&S®Unified Firewalls.
| | UF-360 | UF-760 |
| --- | --- | --- |
| Ports | 6x GE copper, 2x SFP+ | 8x GE copper, 2x SFP+ |
| IDS / IPS throughput HTTPS | 1,400 Mbps | 13,000 Mbps |
| Firewall throughput TCP | 11,600 Mbps | 49,830 Mbps |
| VPN throughput IPSec | 2,200 Mbps | 19,700 Mbps |
| UTM throughput HTTPS | 420 Mbps | 3,400 Mbps |
What is the best firewall for your use case?
Not sure which firewall is best for your use case or how Unified Firewalls differ? To answer these questions, here are three ways to find the firewall that's most suitable for your scenario.
In the comparison table of desktop and rack models, you will find the most important hardware features and system performance of the Unified Firewalls at a glance.

Comparison table desktop vs. rack models

With the Firewall Finder, we provide you with guidelines for sample deployment scenarios.

Firewall Finder

By answering just a few questions, the Firewall matchmaker decision tree is guaranteed to help you find the right firewall for your IT security.

Firewall matchmaker
A valid license is required to operate a LANCOM R&S®Unified Firewall or LANCOM vFirewall. With the flexible licensing model, you can choose between your desired scope of functions (Basic or Full) and the available license periods of 1, 3, or 5 years.

Use a high-performance security appliance to handle your internal network segmentation. With user-based rules and rights, professional user authentication, and – last but not least – the easy-to-use design of our interface, you can be sure that the rules in your various security zones are complied with in full. This license activates the firewall features as well as free support and firmware updates.

Take back control over your network with the complementary, full UTM and VPN features. Corporate policies, load, security, and data traffic are easy to monitor with our various filtering and scanning options. These include Content Filter with youth protection filter and App Filters, the mature IDS / IPS system or our Anti-Virus, Anti-Spam and Anti-Malware features, and preventive security from unknown threats through integrated sandboxing and machine learning.
myLANCOM Firewall License Portal
Always keep a clear overview of the status of your firewall licenses: In the myLANCOM Firewall License Portal, you can monitor, activate and renew your firewall licenses all securely in one place and decide for yourself which of your employees will be granted access to the portal.
Rely on the experience of our customers
In addition to tips and advice, case studies are especially helpful gaining an impression of the actual work with LANCOM R&S®Unified Firewalls. Learn more about the scalable complete package with a UTM firewall and the LANCOM Management Cloud in cooperation with Hasomed GmbH and its system house partner LOOMA GmbH.
UF-360 & UF-760: SFP-SX-LC1, SFP-LX-LC1, SFP-SX-LC10, and SFP-LX-LC10
UF-360 & UF-760 with UF Extension Module 4x 1G SFP (UF-X60): SFP-AON-1, SFP-SX-LC1, SFP-LX-LC1, SFP-SX-LC10, and SFP-LX-LC10
UF-360 & UF-760 with UF Extension Modules 2x 10G SFP+ or 4x 10G SFP+ (UF-X60): SFP-SX-LC1, SFP-LX-LC1, SFP-SX-LC10, and SFP-LX-LC10
UF-760 with UF Extension Module 2x 40G QSFP+ (UF-760): SFP-SR-MPO40, SFP-LR-LC40, SFP-SX-LC1, SFP-LX-LC1, SFP-SX-LC10, and SFP-LX-LC10
² Compatible Direct Attach Cable: SFP-DAC10-1M / -3M
3 years hardware warranty
Firmware and security updates until the End of Life status of the device with active license
Technical manufacturer support as part of a support contract
(LANcommunity partner, LANcare Direct, or LANcare Premium Support)
Click below to get more information as well as the item numbers for convenient additional booking.

…
Click below to get more information as well as the item numbers for convenient additional booking.
Notes: Times are given in hours (h) or minutes (m) per days (d). The products are available for different service categories (S, M, L, XL) as well as validity and can be easily added using the item numbers.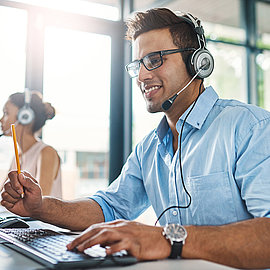 Most questions can be resolved best in direct contact: We look forward to answering your questions and requests by phone or via the contact form.
Inside Sales International Team
+49 (0)2405 49936 122