LANCOM Enterprise Option
In order to be able to react flexibly to increasing demands on the functions of individual network components, the LANCOM Enterprise Option is a software upgrade that offers you a cost-effective and fast expansion of your VoIP routers of the LANCOM 88x series. This increases the number of your existing 3 IPSec VPN channels to 5 VPN tunnels, expands the possibilities of network virtualization eightfold from 2 to a total of 16 ARF networks and activates the enterprise routing protocols BGP and OSPF.
Activation of enterprise routing protocols BGP and OSPF
Additional upgrade to 25 VPN channels possible with the LANCOM VPN Option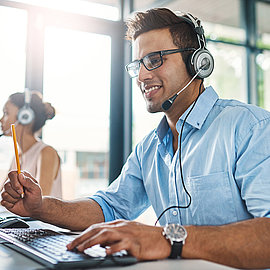 Most questions can be resolved best in direct contact: We look forward to answering your questions and requests by phone or via the contact form.
Inside Sales International Team
+49 (0)2405 49936 122