Applications & advantages
Fiber-optic networks are unrivaled in terms of speed and stability: Companies with a need for high bandwidths can accelerate their applications and processes by implementing precisely tailored LANCOM solutions.
Safe and stable
Due to their material, optical fibers are protected against external influences such as weather, fires or magnetic fields. Interference and failures are significantly reduced. In addition, optical fibers have a high level of data security, as it is complicated to physically intercept the data streams.
Maximum sustainability
No other wired technology enables such fast and stable bandwidths as fiber optics - and this will remain the case for the foreseeable future. Those who can upgrade their business connections today and use the appropriate hardware will be able to use the latest technology standard for a long time.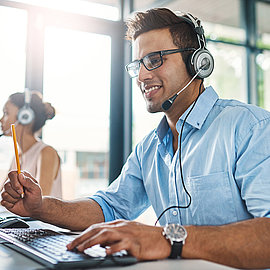 You have questions about our products or solutions, or are you looking for a LANCOM sales partner? Then let us know your wishes via contact form or feel free to contact us by phone.

Inside Sales International Team
+49 (0)2405 49936 122