Implementing future-proof school Wi-Fi at adequate effort
Do you know such or similar statements? "The Wi-Fi at home works much better than the one at school." "Our school Wi-Fi is so slow." "Our teachers don't get along with the Wi-Fi." Or worst case scenario: "Bypassing the school firewall is super easy." The best prevention against such experience reports is a well-planned and powerful school network and Wi-Fi.
LANCOM is specialist in digital equipment for schools and offers experienced support for the digitilization of schools and other educational institutions with a fully comprehensive school network package that is fast, secure, and GDPR-compliant. For a school Wi-Fi that will be free from statements as above.
Digital equipment in schools as the basis for modern learning
Wi-Fi in schools is fundamentally important for equal opportunities in education. A modern school network takes all needs and user groups into account – in the simplest possible way and as granular as required.
Secure access, reliable data transmission, and simple operation of the systems are essential for digitilization projects – especially in educational institutions. These requirements apply equally to a school with 50 students and a campus with 5,000 learners. In addition, there are school-specific issues such as special building characteristics, daily processes, and a high level of responsibility for the children and young people.
Udens College: "The biggest advantage is the scalability and flexibility of Whyless and LANCOM. For example, we can now limit the signal strength for each access point. [...] In the latest firmware update, LANCOM has added the option to block multicast traffic. It is always a positive experience when your supplier listens to your needs."
Joey Aben, network administrator of Udens College
Wi-Fi in schools: Knowing the topics relevant to the audit
Keep administrative effort for school network and Wi-Fi low: simple operation, user-friendly interface, clear user management (e.g. adding additional students with appropriate access rights), different connections in all rooms for flexible selection of appropriate digital teaching aids
Take into account users, devices, apps, and the network itself in your IT security concept and ensure the highest level of cyber and data protection
Build a future-proof WLAN and IT network: plan for increasing data rates and new Wi-Fi standards such as Wi-Fi 6E, consider technical and social developments (new digital devices and apps), enable growth through scalable IT infrastructure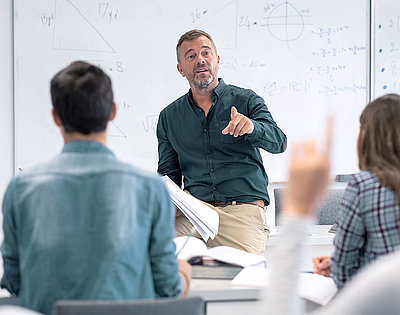 Getting ready for the lesson: Build the school network
As a first step in equipping or modernizing the school network, it is advisable to survey the initial situation and conduct a demand analysis:
Which user groups exist, which applications do they use or will they use?
What are the reasons for and types of access?
How many users access the school Wi-Fi at the same time? And from where?
Which functions are needed particularly frequently? (Example: "Wi-Fi off")
What duties and tasks must be fulfilled: Data and youth protection, duty of care, provision, administration?
And what security requirements result from this?