What digital platforms can do for medium-sized companies
Leaner processes, new markets, stronger customer loyalty – digital platforms offer a variety of paths to higher added value, even presenting entirely new business models by handling business processes more efficiently. In small and medium-sized enterprises (SMEs) in particular, digital platforms offer enormous opportunities for strategic development and a gain in momentum through process digitalization. Digital platforms mean much more than just social networks: Booking and comparison portals, search engines, sharing platforms, and online marketplaces are just a few examples of how SMEs are advancing their digital transformation as users or operators of digital platforms.
What characterizes digital platforms?
For different user groups, such as customers, service providers and suppliers, digital platforms offer an infrastructure for the exchange of services and information. This infrastructure ensures the development and operation of digital services and it pools supply and demand. It enables, for example, the purchase or sale of products through online portals or exchanges. In every area of any company, these platforms are the basis for fruitful digitalization: Especially at the direct customer and supplier interfaces of purchasing, customer service, logistics, sales, and marketing, digital platforms offer superior efficiency – regardless of whether the digital platform is used off the shelf or set up by yourself. The larger the user groups of a platform, the better it is for both parties.
The biggest obstacle to using digital platforms is the lack of skilled workers and expertise. The advantages of digital platforms speak for themselves. Demonstrating why investment in digital platforms is so worthwhile are three principle motives:
Digitalization in medium-sized companies – a process
The digital transformation of medium-sized companies is not an easy undertaking, but one that is worthwhile: Digitalized companies have a clear competitive advantage. A high-performance and secure IT network is the foundation for reliable business operations and future-proof growth, and it protects companies from damaging cyberattacks.
Digital platforms, services, and working methods (smart working) improve communication and numerous processes, thus increasing productivity and revenues. Those who cleverly use the digital world to their own advantage demonstrate strong brand awareness and bind customers to their own company in a more long-term and satisfying way.
Learn everything you need to know to go through this process safely and at your own pace and scale on our topic pages. Let's tackle your digitalization together!
Identify my digitalization potentials together with LANCOM now
Work smarter with digitalization strategies
Digital platforms come in many forms: As digital trading platforms and digital marketplaces for products, data, and data services, mediation and collaboration platforms, and even entire IIoT ecosystems. How can you offer your customers a tailor-made solution, and which digital platform works best for your IT network? This heavily depends on the previous business model and the economic environment. You have the choice of opting for a hybrid variant or a complete changeover. Common examples of digital platforms are outlined below.
Since its founding in 2002, LANCOM Systems has not only had to face the challenges of digital transformation itself, but above all has accompanied numerous other medium-sized companies in their digitalization in a spirit of partnership and trust.
We know first-hand how complex this task is and that it has to be solved individually. Get to know a partner who is in the same boat, in the same time zone, and in the same jurisdiction area! Together we will digitalize your company in a way that suits your purposes. We look forward to hearing your story and sharing ours with you.
Which platform strategy is the right one?
Company decision-makers first have to deal with the trigger mechanisms and success factors for platforms: What added value is offered to customers in their own markets? How realistic is long-term operation?
And of course, this added value must be in proportion to the resources used – regardless of whether you take the role of platform operator or user.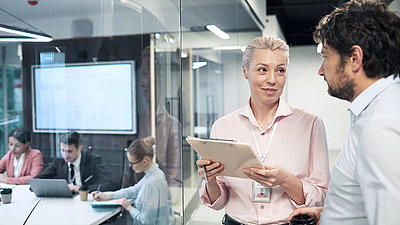 Individual solution as the operator
The decision to set up your own digital platform is often the result of being unable to find anything suitable for your purposes. As a platform operator, you provide an infrastructure with rules for the exchange and, as such, you remain independent of platform operators. Your ability to innovate and precisely adapt your platform puts you in the favorable situation of generating more sales and exploiting the full potential of digital business models.
At the same time, an important part of establishing your platform is your compliance with high standards of consumer and data protection. Even if the new developments are made up of technology modules or were purchased as a white-label solution, the new products still have to be launched and customer segments opened up. That entails high risk and involves high levels of effort.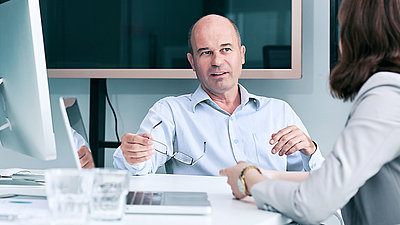 Fast integration as a user
Easier than setting up your own platform is to join one that already exists. This provides the opportunity to increase reach without your own infrastructure, with relatively little effort, low costs and, at the same time, to leverage the scalability and expertise available from larger platforms. However, there are also prerequisites to be met when entering the platform business. The company should:
use proven industry standards in the development of applications, for processes and features, or at least be planning their introduction
have implemented or started the digitalization of business processes
have provided or be providing a stable IT infrastructure, in particular a powerful, modern IT network that supports networked, automated, and intelligent applications.
The management of complex IT network architectures is increasingly becoming difficult to achieve. As an SME ourselves, it was clear to us: The only remedy is to use a digital platform – which is how the LANCOM Management Cloud (LMC) was born. As a platform user, you benefit from comprehensive and convenient management of your products through a single platform. The cloud-based digital platform simplifies individual workflows or even replaces them with intelligent, largely automated configuration of complex IT network architectures. The application is a digital control center that handles important network administration tasks such as Wi-Fi optimization, security checks of connected IT network devices, or managing licenses. Agile development accelerates the implementation and at the same time ensures that the results are up-to-date and of high quality.
Over time and little by little, your network management becomes more important than the individual hardware components themselves. By using the LMC, you take the first step towards automated, data-driven IT network monitoring and optimization. But take a look for yourself:
Sources & further information