LANCOM BPjM Filter
Underage end users are increasingly confronted with content on the Internet that is harmful to them. With the LANCOM BPjM Filter, you can now maximize the protection of minors, e.g. in schools or youth facilities. With the help of the official website list of "Bundesprüfstelle für jugendgefährdende Medien" (German Federal Review Board, BPjM), domains whose content is officially classified as harmful are not accessible to the relevant target group in Germany. Continuous updates and extensions of this list are guaranteed.
Note: The BPjM filter is oriented for the application in Germany and also included in the LANCOM Content Filter.
Blocking of content harmful to underage end users in Germany
Automatic updates and extensions of the filter list
5-year license for an unlimited number of users
BPjM filter can also be activated via an active LANCOM Content Filter
Note: To use the LANCOM BPjM Filter option, at least the LCOS version LCOS 10.70 is required on the device side.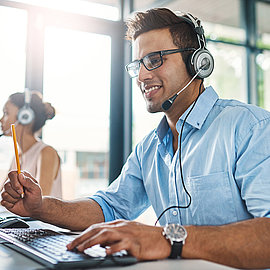 Most questions can be resolved best in direct contact: We look forward to answering your questions and requests by phone or via the contact form.
Inside Sales International Team
+49 (0)2405 49936 122