LANCOM LX-6400
Highly efficient Wi-Fi 6 for universal application purposes
Wi-Fi is omnipresent today, whether in office environments, schools, universities, shopping centres, sports stadiums or event locations. By using the LANCOM LX-6400 you get an excellent Wi-Fi experience. This Wi-Fi 6 access point offers low latency and high throughput per client even with high terminal device density. You can therefore trust the capabilities of High Efficiency Wireless – Made by LANCOM.
Dual concurrent Wi-Fi – parallel operation at 2.4 GHz and 5 GHz with Wi-Fi 6 (IEEE 802.11ax)
4x4 multi-user MIMO for simultaneous beam-steering for multiple clients in down- an uplink mode
OFDMA for efficient Wi-Fi channel usage
Significantly longer battery life thanks to TWT
Support of the security standard WPA3
8 integrated 180° antennas
Automated operation via the LANCOM Management Cloud (LMC)
Power supply optionally by Power over Ethernet (IEEE 802.3at) or power-supply unit (included)
1x 2.5-Gigabit Ethernet PoE port ( IEEE 802.3at for up to 30 Watt), 1x Gigabit Ethernet port
WLAN controller support (including layer-3 tunneling)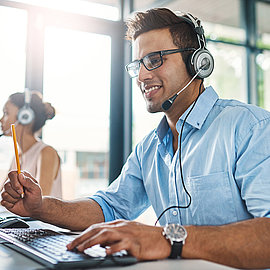 Most questions can be resolved best in direct contact: We look forward to answering your questions and requests by phone or via the contact form.
Inside Sales International Team
+49 (0)2405 49936 122