Optimize Wi-Fi at the push of a button
Automated adjustment suggestions based on real usage data
Network administrators face the challenge of configuring wireless networks in such a way that availability and capacity are guaranteed at all times. Channel conflicts, incorrect transmitting power, or interference from third-party networks often lead to considerable losses in capacity.
LANCOM Active Radio Control 2.0 is the answer to increasingly complex networks coupled with increasing cost pressure and a shortage of IT specialists: The self-learning automation solution optimizes Wi-Fi installations on the basis of real usage data and minimizes the workload for IT administrators. As a true market first in Wi-Fi optimization, LANCOM Active Radio Control 2.0 is patent-pending and offers the best possible user experience for every scenario: from office, hotel, or hospital Wi-Fi to large-scale installations in stadiums and event arenas. For easy, automatic Radio Resource Management (RRM).
LANCOM ARC 2.0 in operation
In our techpaper you will learn all about the functionality and operation of LANCOM Active Radio Control 2.0. This will give you a detailed overview of LANCOM's unique Wi-Fi optimization solution, as well as all included RRM functions (Radio Resource Management), and helpful hints for user-defined settings such as learning and prioritizing of access points.
Actual status vs. prognosis
Save yourself hours of problem analyses and improvement tests in your Wi-Fi! Thanks to LANCOM Active Radio Control 2.0, your LANCOM access points now cooperate and help to optimize themselves. They store all relevant Wi-Fi usage data and transmit it to the LANCOM Management Cloud.
A graphical comparison visualizes the current state of the wireless network and the expected state after optimization. This allows you to see the overall situation at any time, which of your own and other access points are occupying which channel and identify unfavorable multiple occupancies – and at the same time recognize the optimization potential offered by LANCOM Active Radio Control 2.0.
Automatic mode vs individual mode
The expected Wi-Fi optimization level is mapped using the ARC index on a scale of up to 100%. This allows you to see at a glance the efficiency and performance leap your Wi-Fi has made thanks to LANCOM Active Radio Control 2.0. Using the practical automatic mode, you only need two clicks to do so: First "scan" your Wi-Fi and then "apply and roll out" the improvements.
In addition, experienced Wi-Fi specialists can select a Wi-Fi optimization scheme suitable for the respective scenario via a simple drop-down menu, according to the access point density (low, normal, or high). This allows you to individually adapt the result to the respective network conditions.
Full control over your configuration
At the same time, you never give up control over your radio field! With just a few clicks, you can define essential framework conditions for LANCOM Active Radio Control 2.0.
Exclusion of individual access points from optimization:
Ideal if parts of the Wi-Fi have already been manually planned and optimized and are not to be changed anymore.
Exclusion of individual channels from optimization:
Ideal if, for example, certain channels are intended for other usage.
Manual prioritization of individual access points:
Ideal if certain access points should always have priority (e.g., management, in important conference or meeting rooms, or in central locations such as entrance halls and foyers).
From now on your Wi-Fi will optimize itself
Thanks to LANCOM, it doesn't take much to ensure that your Wi-Fi is always the best version of itself: Cloud-enabled LANCOM access points, the LANCOM Management Cloud as a network management tool, and activation of the LANCOM Active Radio Control 2.0 feature it contains for Wi-Fi optimization.
Cloud-based Wi-Fi optimization
LANCOM Active Radio Control 2.0 is provided as part of Wi-Fi management via the LANCOM Management Cloud as of now. For all networks with valid licenses, ARC 2.0 will be available at no additional cost, even for existing installations (when using devices with active software maintenance).
Would you like to test the LANCOM Management Cloud live? Then simply request demo access and click your way through:
Best Wi-Fi performance for any scenario
Whether it is a first-time installation or an existing wireless LAN infrastructure, LANCOM Active Radio Control 2.0 enables even Wi-Fi administrators with little optimization experience to manage large installations where manual optimization is almost impossible.
Enabling smooth network operation even in times of a shortage of skilled personnel. Enabling relieved network managers, efficient work, and low costs.
Enabling the Wi-Fi you need.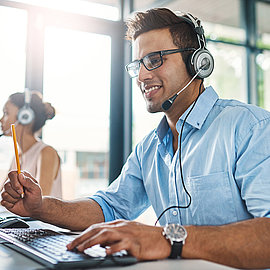 You have questions about our products or solutions, or are you looking for a LANCOM sales partner? Then let us know your wishes via contact form or feel free to contact us by phone.

Inside Sales International Team
+49 (0)2405 49936 122