Wi-Fi 6, alias IEEE 802.11ax, offers the advantage of lower latency per WLAN client compared to older standards. When it comes to Wi-Fi, it is not so much about being faster: Now it is more about increasing the average throughput per Wi-Fi client. However, with the numbers of WLAN end devices and their transmitted data volumes growing steadily, as well as the increasing density of IoT devices, the load on the available Wi-Fi frequencies has made communication hardly possible without collisions.
This is exactly where Wi-Fi 6E comes into play: It extends the existing Wi-Fi 6 by the 6 GHz band for exclusive WLAN use. Especially in high-density environments, such as football stadiums, airports, or universities, Wi-Fi 6 and Wi-Fi 6E therefore play out their advantages to the full and ensure simultaneous and interference-free operation of many WLAN end devices or IoT devices at highest data rates.
Scenarios with large numbers of users
The weaknesses of previous standards were particularly evident in high-density environments with large numbers of Wi-Fi clients. Multiple clients trying to transmit at the same time will cause data transmissions to collide, so the aim is to reduce this. By making more efficient use of the available bandwidths and channels, Wi-Fi 6 und Wi-Fi 6E bring more stability and reliability to intensively used wireless LANs. The advantage of Wi-Fi 6(E) over former standards is a reduction in latency time for each Wi-Fi client. The available bandwidths are allocated to each client much more efficiently.
More and more IoT devices
The future will see increasing numbers of IoT devices coming into play, so the available bandwidths need to be managed and allocated even more efficiently. The OFDMA technology described below and the available subcarriers will make a significant contribution here. In environments with a very high density of IoT devices, such as in smart cities, high throughput and low latency have an important role to play. While the data generated by IoT sensors must be forwarded quickly, bandwidth-hungry applications should not be excluded or significantly slowed.
Wi-Fi 6E – The VIP area in wireless LAN
Since July 2021, the 6 GHz frequency band has also been officially released for WLAN use in Germany, opening up an exclusive radio field free of interference. With Wi-Fi 6E, the frequency range between 5.925 and 6.425 GHz becomes usable for Europe. 6 GHz WLAN is supported for the first time by the Wi-Fi 6E standard, but not by the predecessor standards Wi-Fi 5 (IEEE 802.11ac) and Wi-Fi 4 (IEEE 802.11n) – like a VIP area in the wireless LAN.
Wi-Fi 6E Access Point: LANCOM LX-6500
The LANCOM LX-6500 supports channel bandwidths of 20, 40, 80, and 160 MHz with 4 streams, thus doubling the previously available WLAN spectrum. This allows transmission rates of up to 4,800 Mbps in 6 GHz, up to 2,400 Mbps in 5 GHz, and up to 1,150 Mbps in 2.4 GHz. This ensures an exclusive, particularly high-throughput and reliable Wi-Fi experience that performs well even with bandwidth-hungry applications such as 4K and 8K video streaming and high device densities. Powered by Power over Ethernet (PoE++) according to IEEE 802.3bt, this Wi-Fi 6E access point unleashes its full performance potential with all the multi-Gigabit Ethernet benefits.
The progress from Wi-Fi 5 to Wi-Fi 6 results from the close interaction of these features:
Multi-User MIMO (MU-MIMO)
OFDMA
QAM-1024
Target Wake Time (TWT)
Basic Service Set (BSS)
In the LANCOM White Paper 2x2 Wi-Fi 6 vs. 3x3 Wi-Fi 5 you can read about the advantages of a wireless LAN infrastructure based on 2x2 MIMO Wi-Fi 6 access points as opposed to an installation with 3x3 MIMO access points with Wi-Fi 5. This document can help you choose the right WLAN infrastructure according to your needs.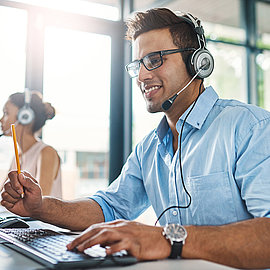 You have questions about our products or solutions, or are you looking for a LANCOM sales partner? Then let us know your wishes via contact form or feel free to contact us by phone.

Inside Sales International Team
+49 (0)2405 49936 122