LANCOM Emergency Support
Guaranteed reaction time of max. 30 minutes (Registration required by 4 p.m. at the latest to use the service on the same day).
Professional LANCOM support, e.g. for on-site technicians at the customer
A LANCOM expert will assist you in identifying the cause of the malfunction (max. 1 hour)
Valid for all devices that are entitled to support as part of the LANCOM Software Lifecycle Management
Please note that this is a service that can only be offered subject to availability
Quick help without long waits
With LANCOM Emergency Support vouchers, you are assured of quick help in case of emergency: We guarantee that you will receive a response within 30 minutes after ticket creation.
Minimize downtime, maximize productivity
Short reaction times and fast, effective support will remedy your network problems in no time, so your services will quickly be operational again.
Support direct from your manufacturer
In emergency cases, the LANCOM Emergency Support voucher gives you direct access to expert help straight from the manufacturer. Rest assured in the knowledge that a genuine LANCOM expert is working to support you and provide the quickest possible solution.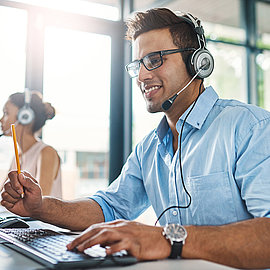 Are you interested in one of our service and support products?
Request here:
If you need any further help do not hesitate to contact our support team:
LANCOM Support Team
+49 (0)2405 49936 210