Better, simpler, more secure – and cheaper in the long run.
1 + 1 = 3 is no sleight of hand, but the reality of cloud-based, software-defined networks. Because these networks are more than the sum of their parts. Lone warriors become a committed, powerful force that really does everything better and makes the seemingly impossible possible: More options, more security, and that with easier operation and lower costs in the medium and long term.
As a result, the IT department produces demonstrably better results with noticeably less effort, and the reduced workload goes hand-in-hand with higher security and better performance.
Don't leave network management to chance; leave it to the cloud
And this is how cloud-era networking works: System administrators log in to a central web interface. They use this clearly structured dashboard to model the required networks. Intelligent software then takes over and performs the detailed configuration of all of the components such as switches, access points, firewalls or routers as well as their virtual variants according to the network specifications.
The software and web server are hosted on a cloud server. The cloud itself is merely a means to an end. It accommodates the central control software that can easily access and control all devices connected to it via the Internet, no matter where they are. The same is true for administrators: They can issue their instructions via the dashboard, wherever they are. The complete chain of command is, of course, securely encrypted.
Especially when networking branches, partner companies and employees in the home office, even very large and complex infrastructures can be managed in a clear and relaxed manner. A classic SD-Branch network administered with network management software could look like this, for example:
Modern network management
"Globalization, digitalization and the pandemic have shown companies that the technical prerequisites for a future-proof operation are not yet fully developed. Not only the number, but also the variation of the devices in the network has risen rapidly alone by the fact that a lot of employees have switched to working from home. [...] Today, a network architecture uses a large number of sensors, controllers, routers, switches and access points. In addition, the networking of different locations has become a significant factor in the efficient operation of the entire company due to globalization, internationalization and outsourcing as well as the integration of business areas. What is needed are network management solutions that intelligently organize, optimize and manage these components and enable the network to achieve a holistic security standard." – techconsult study from 2022

The autopilot for IT administration
For network management, control from the cloud is nothing less than a paradigm shift – away from controlling components and towards designing the network. Or, from the administrator's perspective: less mechanic and more commander. Because control is based on the autopilot principle. While the pilot enters the destination, it is the electronics that control the engines, elevators, ailerons and rudder to take care of the rest.
In terms of the world of network management: System administrators define the required networks and applications once only. The control unit in the cloud then uses this information to analyze what the connected components have to do and sends them the appropriate configuration instructions.
So just as pilots don't need to worry about the angle of attack of the tailplane, a commander of a cloud-controlled network has no need to worry about VLAN segmentation, dynamic routing, or detailed switch-port configurations. They can use their valuable manpower where it is needed most and, thanks to the cloud, can control their networks from anywhere – rather like a drone pilot, only easier; if necessary from the beach by smartphone.
See for yourself the enormous possibilities offered by cloud-driven network management and how to implement them step-by-step:
The effort involved in setting up a network like this is gratifyingly manageable: Read here how to set up a network in the LANCOM Management Cloud in just three steps. Also: Why the usual sequence of configuration is turned on its head.
Cloud-based network management becomes trustworthy when it not only brings perceptible added value, but above all satisfies the user's own need for security. This includes data and failure protection, as well as access protection. The LANCOM Management Cloud meets these requirements in a variety of ways.
Once you have a basic set of different virtual networks for the various company departments, these VLANs are easy to copy by mouse click, for example for further sites. The next job is to integrate the access points, switches, routers, or firewalls into the networks. Why almost anyone can do this job from now on?
Noticeable relief for IT departments thanks to fully flexible task-sharing for the configuration, control and maintenance. Highly flexible outsourcing of defined tasks to cooperating system vendors. All of this only works with a well thought-out and efficient authorization concept. How you can use an e-mail entry and two clicks to direct the roles à la LANCOM.
But how about security? It's great: A few clicks is all it takes for the system administrator to set a security machine in motion that turns firewalls or suitably equipped routers into a veritable rampart against any potential danger from the Internet. With further network-specific, intuitively operated filter settings, the firewall blocks individual or entire categories of potentially unsecure applications and services, or denies access to collections of suspicious websites. When an inviting operating concept has control over a tough security concept – LANCOM cloud-managed security in overview:
The high degree of automation in the LANCOM Management Cloud is a blessing for every IT department. However, the ultimate responsibility lies with the people who work there. What they don't need is a black box, but up-to-date, reliable information on how the network is doing. Continuous monitoring is required for processes that are relevant to security. For this purpose, dashboards can be configured individually, flanked by intelligent reporting systems.
The nightmare that is Wi-Fi interference: Transmission of the video conference is choppy, the IP telephone produces just fragments of the conversation, the connection to the server hangs. The IT'll fix it. But, hand on heart, they're groping in the dark. Flying blind, they fiddle with settings on the access point by "trial-and-error", or an additional, possibly superfluous device is spontaneously purchased. Not with the LANCOM Management Cloud. This relies on the structured detection and elimination of errors, and its anomaly detection helps IT staff to eliminate vulnerabilities before problems even appear.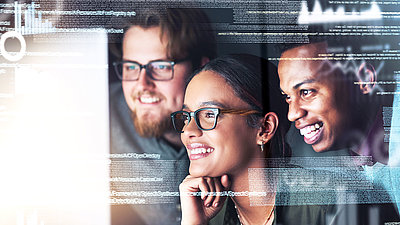 What often makes IT network administration a burden are the many time-consuming tasks that have to be repeated over and over again: Making the same configuration change on twenty components; setting up SSIDs and authenti­cations locally at each site; setting up firewall rules on each firewall individually.... It's nice to be able to automate and centralize these time-consuming, redundant tasks.
Find out how you can save 75% of your time with the LANCOM Management Cloud