By definition, network security describes the technical and organizational protection of the internal IT infrastructure with all its data, systems, devices, and applications to enable secure digitalization. These security mechanisms not only protect the data center, but also all locations and the cloud itself. Effective network security fends off unauthorized access, data manipulation or data theft with blackmail, system paralysis (DDoS attacks), and other damage caused by hackers, malware, and viruses.
It ensures that data is exchanged confidentially and with integrity and is always available via VPN (Virtual Private Networks) or ZTNA (Zero Trust Network Access). However, secure networks are created primarily through comprehensive information on network security and network protection, as well as targeted measures to enforce cyber protection policies at all levels. The best way to get started right now is with LANCOM insider knowledge on the subject of network security!
User authentication
Clear access rules for network access (network access control, or NAC for short) ensure that network security is protected through authentication and that security policies are adhered to. This means that there is always a comprehensible overview of which users, devices, and services are in the network, which identity is really behind them and who has which functions or is allowed to perform which actions. This access control can take various forms:
Active Directory import
Local user management
Single sign-on (Kerberos)
Multiple logins
Captive portal
Terminal Server Support (via Remote Desktop IP Virtualization)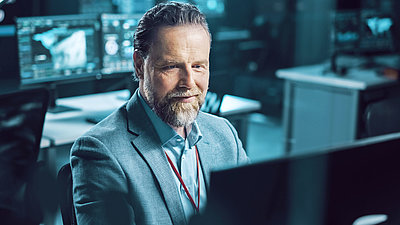 Step-by-step
As an IT admin, being responsible for network security is a con­siderable burden. But don't worry, we are at your side. Step-by-step towards greater network security. This includes router and firewall settings, LAN security, Wi-Fi settings, and general awareness throughout the company for the importance of IT security.
Find the right firewall
For a secure IT network, your firewall should fit your infra­structure. With a maximum of five questions you can find the best firewall for your use case: