By definition, network security describes the technical and organizational protection of the internal IT infrastructure with all its data, systems, devices, and applications to enable secure digitalization. These security mechanisms not only protect the data center, but also all locations and the cloud itself. Effective network security fends off unauthorized access, data manipulation or data theft with blackmail, system paralysis (DDoS attacks), and other damage caused by hackers, malware, and viruses.
It ensures that data is exchanged confidentially and with integrity and is always available via VPN (Virtual Private Networks) or ZTNA (Zero Trust Network Access). However, secure networks are created primarily through comprehensive information on network security and network protection, as well as targeted measures to enforce cyber protection policies at all levels. The best way to get started right now is with LANCOM insider knowledge on the subject of network security!
News from the cybersecurity industry
Learn about the current state of network security in companies and what IT security of the future will look like in the techconsult study "Cyber Security Reimagined"!
Deep Packet Inspection
The security of your IT network is at its best when it is extensive and multi-layered. With Deep Packet Inspection (DPI), network traffic and the protocols and applications used are inspected and classified down to layer 7 level (data area of the data packet). HTTPS data packets are also identified at a fine granular level using "Encrypted Traffic Analysis". This allows detailed network security policies to be defined and combined with clever application management.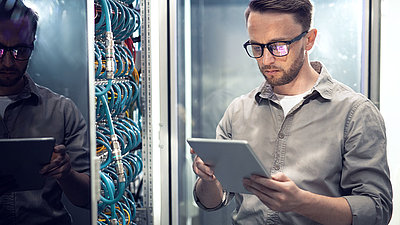 Support for network security in enterprises
With LANCOM at your side, the weight of the responsibility of being an IT admin in charge of security is lifted from your shoulders: With numerous support offerings – including a user-friendly firewall interface, cloud-managed security, as well as support and training courses – you will receive competent guidance on your way to a secure network.
Find the right firewall
For a secure IT network, your firewall should fit your infra­structure. With a maximum of five questions you can find the best firewall for your use case:
LANCOM security portfolio
The LANCOM R&S®Unified Firewalls protect companies of all sizes, types, and industries: Get to know our desktop models for small to medium-sized businesses and our rack models for large enterprises and schools!