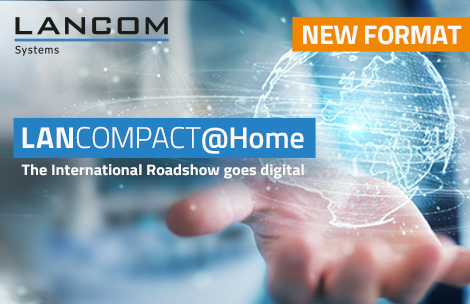 The international Channel Roadshow
comes to your Home Office
+++ To all visitors: thank you for your interest +++
The live events have already taken place. Feel invited to register for another webinar on our event webpage.
Experience the New Format of Knowledge Transfer
Join our 2 Sales and 5 Presales webinars starting on May 12 and learn more about the lastest LANCOM Sales Strategy and innovative Solution Portfolio.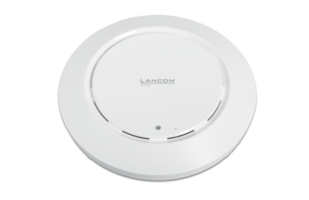 Receive exciting giveaways for your participation
If you attend* 2 out of 2 sales sessions (I & II) you will receive a small surprise
thank you gift.
Join us* for 4 out of 5 presales sessions (III to VII) and you will receive a free
LW-500 access point incl. an 1-year license for the LANCOM Management Cloud!
*All resellers, system integrators and distributors, who have registered successfully and have fully attended the required number of remote sessions are eligible to receive one giveaway per attendee.
+++ The live events have already taken place. LANCOM partners have access to the recordings in our LANcommunity Partner Portal. +++
I - The common road to success [SALES]
In the first two parts of the LANcompact@Home series, we focus on "team play" and leveraging our joint sales activities. Learn more about LANCOM as your trusted vendor, recent company news and highlights, target markets, vertical focus and best practice for your solution sales - you will learn about new cloud driven sales models, gain exciting insights and learn more about the key factors that make us grow much faster!
LANCOM corporate introduction
5x5 solution sales strategy
Vertical focus vs. target markets
Cloud consumption models
Value-added sales
II - Why we win together [SALES]
In this second sales-focused session, we will get you up to speed with a deep(er) dive into our latest solution portfolio, competitive strategies and providing access to the necessary sales tools & programs. With examples of our reference-selling strategy, useful hints about where to find what and a quick "How to get started" guide we wrap up the Sales track. The exciting Sales webinars will equip you with everything to successfully speed-up your LANCOM sales pipeline!
Deep(er) dive solution portfolio
Reference selling strategy
Sales enablement & competitive strategy
Marketing support & how to get started
III - The power of the new LANCOM aggregation switches for medium-sized businesses [PRESALES]
This year, we will be extending our comprehensive Access switching portfolio by launching our first aggregation switches. These brand new products offer future-proof fiber-optic performance for virtualized applications and constantly growing network requirements from new mutirate access standards up to 40G uplink and latest 25G/100G stacking capability. The switch performance offered by the new devices provides you with a wire-speed 10G Aggregation layer and network redundancy via multiple stacking functionalities, perfectly designed for the Enterprise Edge and even smaller Campus/Core networks.
LANCOM Systems LAN portfolio
Gigabit and multigigabit access switches
Aggregation switches
The latest LCOS-SX features
Switches managed and monitored by the LMC
IV - The future of WLAN is Wi-Fi 6 [PRESALES]
With the new LX-6400 series as well as the upcoming LW-600 we are introducing the first members of our new Wi-Fi 6 access point family. Wi-Fi 6 will provide a large set of new capabilities, particularly fitted for demanding environments with high IoT device density. A guaranteed excellent WLAN experience should therefore no longer be a concern. After a successful introduction of a new WEBconfig GUI for the LCOS-LX products, the new look-and-feel for the LCOS-based products is now also available.
LANCOM Systems WLAN portfolio
The new indoor Wi-Fi 6 access points
ePaper portfolio extended
The latest LCOS-LX & LCOS features
Access points managed and monitored by the LMC
V - Secure.Networks. with LANCOM WAN [PRESALES]
Tune into this part of our LANcompact@Home series to find out everything about routers & gateways as well as our VPN solutions, which have been awarded the title of VPN Champion for the fourth time in a row. Addressing the hot topics of the IT industry, we will discuss trends such as SD-WAN connectivity and reveal LANCOM's vision for them.
LANCOM Systems WAN portfolio
Routers & Gateways
SD-WAN Hardware components
G.Fast and 5G
VPN, incl. 1 click VPN Demo
VI - "Network Security by Design" [PRESALES]
LANCOM R&S®Unified Firewalls offer state-of-the-art security in a Unified Threat Management (UTM). The next-generation Firewalls provide reliable cyber security with the support of sandboxing and ATP, either stand-alone or operated via the LANCOM Management Cloud (LMC). Thanks to the setup wizard and the graphical user interface, intuitive operation and a clear overview of all secure areas in your company are possible.
LANCOM R&S®Unified Firewalls, incl. Live Demo
Security mechanisms, firewall portfolio & licensing
What´s new: Setup Wizard, Advanced Service Packs
What´s next: IMAP Proxy, Portfolio enhancements
VII - Hyper Integration [PRESALES]
Unpack, plug in, connect and the cloud takes care of the rest. What sounds like a dream to any network technician or IT admin can actually be a reality when commissioning and rolling out WAN, LAN, WLAN and Security devices on the network. The solution: "Zero-touch deployment". In this final part of our LANcompact@Home webinar series we will show you how the LANCOM Management Cloud intelligently organizes, optimizes and controls your entire network architecture. You will also gain exclusive insights into new and upcoming features of the LMC.
LANCOM Management Cloud, incl. Live Demo
SD-WAN & SD-Branch
What´s new: Cloud managed Network Security, Rollout Wizard
What´s next: WLAN Anomaly Detection, Shadow devices