LCOS FX Release
Top efficiency for your network security
LCOS FX 10.12 brings numerous improvements and features to your LANCOM R&S®Unified Firewalls. A new feature is support for the VPN standard "WireGuard", which enables simple and efficient administration of VPN connections and offers high data throughput. You can also create firewall rules based on DNS. The graphical display of all important system parameters gives you a quick overview of firewall performance and load. And by automatically sending security reports by e-mail, you can optimize the monitoring and security of your network.
Note: Update to LCOS FX 10.12 RU3 urgently required. More information is available here.
LCOS FX 10.12 is now available via the update function of the LANCOM R&S®Unified Firewall or in the myLANCOM Firewall License Portal. In the myLANCOM Firewall License portal you will find the current LCOS FX release version as well as all active predecessor releases under the section "Downloads".
Important note:
Please perform the software update to version LCOS FX 10.12 RU3 to ensure optimal protection.
LANCOM R&S®Unified Firewalls now support the VPN standard "WireGuard" for simple and fast administration of VPN connections. The use of the noise protocol ensures an efficient handshake that effectively accelerates the establishment of VPN connections. In addition, high data throughput is achieved by reducing encryption parameters.
As of LCOS FX 10.12, create firewall rules over and between DNS objects for easier management of dynamic and software-based networks. The use of host names instead of fixed IP addresses makes the creation of firewall rules particularly efficient.
The graphical display of all critical system parameters, such as CPU, RAM, and hard disk utilization, provides a quick and comprehensive overview of the performance and workload of the LANCOM R&S®Unified Firewalls. The assignment of resource consumption to features and processes makes it possible to quickly identify bottlenecks and weak points and to take targeted optimization measures.
Sending security reports by e-mail
Efficient archiving and auditing is made possible by automatically sending security reporting by e-mail at configurable intervals. This offers a clear advantage in terms of monitoring and security of your network, as relevant security information is provided promptly and reliably.
Multihop BGP support for transmitting BGP packets through an IPSec tunnel
Selection of destination tables for learned routes to use policy-based routing with BGP
Let's Encrypt for the reverse proxy
Support of Link-Layer Discovery Protocol both as sender and receiver including display of currently visible neighbors
Software lifecycle management
With LANCOM Systems you have a manu­facturer at your side who offers unparalleled investment protection. The lifecycle policies from LANCOM also provide full transparency and reliable planning with regard to the firmware updates and product support for your LANCOM infrastructure.
Overview of firmware versions
Keep track of our current operating systems versions of LCOS, LCOS LX, LCOS FX, and LCOS SX with our firmware version overview. It provides a comparison of the different versions and recommended usage, so that you are always well informed.
Our aim is the optimal preparation of our operating systems and other software, not only for its use in practice, but also to adapt it to the wishes of our customers. This is why we enter into active dialog with our customers even during the development phase as part of our release procedure.
The latest version of LCOS FX 10.12 is ready for download directly in your LANCOM R&S®Unified Firewalls' web interface or via the myLANCOM Firewall License Portal. You can find further information here: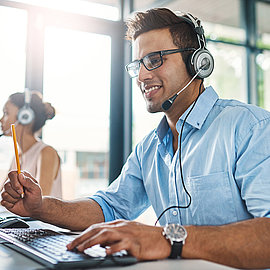 Most questions can be resolved best in direct contact: We look forward to answering your questions and requests by phone or via the contact form.
Inside Sales International Team
+49 (0)2405 49936 122