LCOS FX Release
Custom-fit design of your network security
LCOS FX 10.10 provides a wide range of options for designing your security architecture precisely and time-efficiently. The new Add-in Generator in the LANCOM Management Cloud allows you to transfer the configuration of one Unified Firewall to any number of others. In addition, the reverse proxy now supports the popular certification authority Let's Encrypt for flexible and free certificate management. And in scenarios with multiple Internet lines, you can now select a provider-specific DNS server for each connection.
LCOS FX 10.10 is now available via the update function of the LANCOM R&S®Unified Firewall or in the myLANCOM Firewall License Portal. In the myLANCOM Firewall License portal you will find the current LCOS FX release version as well as all active predecessor releases under the section "Downloads".
Quickly and easily multiply your ideal configuration from one Unified Firewall to any number of UFs managed by the LANCOM Management Cloud (LMC). Using the new Add-in Generator, you can easily generate entire add-ins or even individual add-in sections from the audit log of an initially configured Unified Firewall.
BGP support for IPSec connections
By supporting BGP on active IPSec connections, you benefit from better load balancing and resilience. For this purpose, routes are announced only on active VPN tunnels.
Let's Encrypt for the reverse proxy
Now it is even easier to enable public access to internal (web) services such as Microsoft Exchange. The reverse proxy of the Unified Firewalls supports Lets Encrypt. This means that free and trusted certificates can be integrated and automatically be renewed via the Unified Firewalls in just a few simple steps.
Software lifecycle management
With LANCOM Systems you have a manu­facturer at your side who offers unparalleled investment protection. The lifecycle policies from LANCOM also provide full transparency and reliable planning with regard to the firmware updates and product support for your LANCOM infrastructure.
Overview of firmware versions
Keep track of our current operating systems versions of LCOS, LCOS LX, LCOS FX, and LCOS SX with our firmware version overview. It provides a comparison of the different versions and recommended usage, so that you are always well informed.
Our aim is the optimal preparation of our operating systems and other software, not only for its use in practice, but also to adapt it to the wishes of our customers. This is why we enter into active dialog with our customers even during the development phase as part of our release procedure.
The latest version of LCOS FX 10.10 is ready for download directly in your LANCOM R&S®Unified Firewalls' web interface or via the myLANCOM Firewall License Portal. You can find further information here: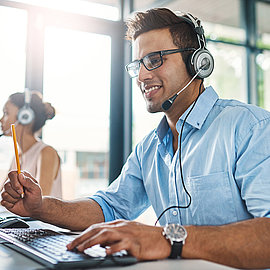 Most questions can be resolved best in direct contact: We look forward to answering your questions and requests by phone or via the contact form.
Inside Sales International Team
+49 (0)2405 49936 122