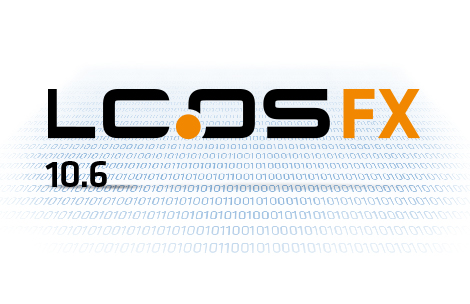 Cloud-managed VPN and even more control
With the new release version LCOS FX 10.6, you get a real plus in convenience and control when operating your LANCOM R&S®Unified Firewalls: Among other things, more convenience is provided by a wide range of features for highly automated operation with the LANCOM Management Cloud (LMC). And for more control, zone management in DNS allows separate DNS configuration for individual networks.
LCOS FX 10.6 is now available via the update function of the LANCOM R&S®Unified Firewall or in the myLANCOM Firewall License Portal.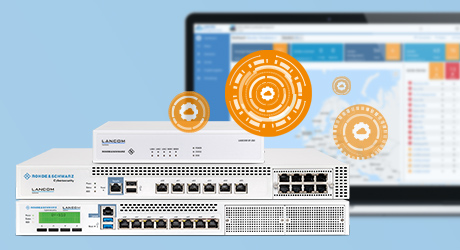 Extended feature set for cloud-managed firewalls*
LANCOM FX 10.6 upgrades the LANCOM R&S®Unified Firewalls with many additional functions for operation with the LANCOM Management Cloud (LMC) and turns them into a fully-fledged stand-alone VPN gate­way for branch offices: From now on, secure VPN networking of sites, including network virtualization, is fully automated. Thanks to the support of LMC's DynDNS service, firewalls are also easily reached via a self-selected subdomain. Furthermore, applications can now also be blocked by the firewall in stand-alone mode at layer 7 level.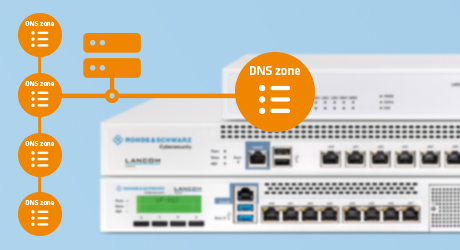 Zone management for DNS
From now on, the LANCOM R&S®Unified Firewalls support different DNS servers for different zones. In addition, the DNS configuration for indivi­dual networks can be adjusted separately. This allows separate DNS configuration for individual networks so that, for example, local zones can be accessed exclusively from the employee network and not from the guest network.
*Support of these features in the LANCOM Management Cloud will follow soon.
Software Lifecycle Management
With LANCOM Systems you have a manu­facturer at your side who offers unparalleled investment protection. The lifecycle policies from LANCOM also provide full transparency and reliable planning with regard to the firmware updates and product support for your LANCOM infrastructure.
Firmware version overview
Keep track of our current OS versions with our firmware version overview. It provides a comparison of the different versions and recommended usage.
LANCOM release process
Our aim is the optimal preparation of our in-house operating systems LCOS, LCOS SX, LCOS LX, and LCOS FX and other software, not only for its use in practice, but also to adapt it to the wishes of our customers. This is why we enter into active dialog with our customers even during the development phase as part of our release procedure.