LCOS Release
More power for branch networking
With the LCOS versions 10.70 / 10.72, including Advanced Mesh VPN, you not only significantly improve the performance of classic VPN scenarios, but also expand the options for realizing individual networking topologies freely and flexibly. Instead of routing all data traffic via the central gateway, direct VPN tunnels are dynamically established from branch to branch as required.
You will find the current LCOS release version as well as all active predecessor releases in our download portal. Simply enter your desired product and download the software free of charge!
With classic, star-shaped VPN site networks, in which all branches are only connected via the headquarters and not directly to each other, the Internet line of the headquarters quickly becomes the bottleneck of the entire communication. With Advanced Mesh VPN, the branch offices are now directly interconnected, resulting in significantly less traffic at the headquarters and thus higher performance. The VPN tunnels are established dynamically as soon as data traffic is transported from one branch office to another. If there is no more communication, the VPN connection is terminated dynamically as well.
Protection of minors according to official regulations
With LCOS 10.70 / 10.72, you can now maximize the protection of underage end users, e.g. in schools or youth facilities. For example, the official website list of the "Bundesprüfstelle für jugendgefährdende Medien" (German Federal Review Board, BPjM) is now also part of the LANCOM Content Filter Option or available separately via the software extension LANCOM BPjM Filter Option. This means that domains whose content is officially classified as harmful are not accessible to the relevant target group in Germany. Continuous updates and extensions of this list are guaranteed.
Two-factor authentication – double security for your VPN
Whenever a high level of security for your sensitive data is required or, for example, compliance guidelines in your company demand it, double protection of network access via your LANCOM Advanced VPN Client is ideal. Thanks to two-factor authentication (IKEv2 EAP-OTP), you can now protect VPN access and thus also your network from unauthorized access. You can specify that users can only log in via the LANCOM Advanced VPN Client if they use two-factor authentication when logging in. In this case, the VPN password is supplemented by a time-based one-time password, which can be generated in an authentication app (e.g. Google Authenticator) on the cell phone. This feature can be used with all devices that have at least 25 VPN tunnels (either already integrated or upgraded with LANCOM VPN Option).
LANCOM vRouter available via Amazon Web Services (AWS)
With LCOS 10.70 / 10.72, you can now operate the LANCOM vRouter with the cloud computing provider Amazon Web Services (AWS) if desired. This means besides Microsoft Azure, VMware ESXi, and Hyper-V, you can also use AWS to move your own infrastructure to the cloud. The LANCOM vRouter guarantees a secure connection and handles encrypted communication between your site and your virtualized infrastructure in the AWS cloud. In addition, the virtualization of central sites is possible, as the vRouter in AWS replaces the use of a central-site gateway in hardware.
Scalable, efficient, and secure networks thanks to LANCOM SD-WAN
The new LCOS version is designed for demanding enterprise scenarios with several WAN connections and applications. With a LANCOM SD-WAN you create the foundation for a comprehensive networking of distributed corporate sites. Discover how the LANCOM SD-Branch solution caters for an additional highly integrated approach for the orchestration of all network segments (routers – WAN, switches – LAN, access points – wireless LAN, firewalls – security) in branch infrastructures.
Software lifecycle management
With LANCOM Systems you have a manu­facturer at your side who offers unparalleled investment protection. The lifecycle policies from LANCOM also provide full transparency and reliable planning with regard to the firmware updates and product support for your LANCOM infrastructure.
Overview of firmware versions
Keep track of our current operating systems versions of LCOS, LCOS LX, LCOS FX, and LCOS SX with our firmware version overview. It provides a comparison of the different versions and recommended usage, so that you are always well informed.
Our aim is the optimal preparation of our operating systems and other software, not only for its use in practice, but also to adapt it to the wishes of our customers. This is why we enter into active dialog with our customers even during the development phase as part of our release procedure.
Before any LCOS update, be sure to backup your current device configuration. Devices featuring the "Firmsafe" function have the option of an initial "test mode" firmware upload. The new firmware is activated permanently only if the device has been accessed with a log-in or for configuration purposes before the pre-set time period has expired. Otherwise, the device switches back to its former version.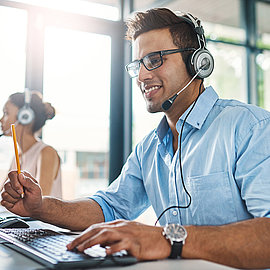 Most questions can be resolved best in direct contact: We look forward to answering your questions and requests by phone or via the contact form.
Inside Sales International Team
+49 (0)2405 49936 122