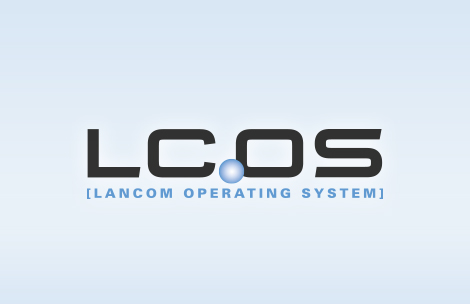 LCOS 8.84 Release Update 3
The new LANCOM operating system LCOS 8.84 is also the start of our intelligent WLAN optimization concept LANCOM Active Radio Control.
In addition, LCOS 8.84 offers a powerful package for sending and receiving SMS via the router, an efficient data volume management, and rapid roaming in controller-based WLAN environments.
LANCOM Active Radio Control
Activate the full potential of your WLAN!
The intelligent WLAN optimization concept LANCOM Active Radio Control (ARC) helps you to lastingly enhance the performance of your WLAN.
With the professional WLAN optimization tools of LANCOM Active Radio Control you achieve…
…more WLAN throughput due to less channel overlapping, thanks to the automatic selection of optimal WLAN channels (RF Optimization)
…optimized load distribution throughout the WLAN by actively steering clients to the less congested and more powerful 5 GHz frequency band (Band Steering)
…significantly more data throughput for clients in heavily loaded WLAN environments with many foreign interferences in the radio field (Adaptive Noise Immunity, NEW in LCOS 8.84)
…efficient WLAN troubleshooting by graphical representation of interferences in the radio field (Spectral Scan)
Short Message Service
Automatic sending of SMS for Smart Ticket and network events
Design your network processes more efficiently with the sending and receiving of SMS via your 3G/4G router. With this, the SMS transmission of Public Spot credentials via Smart Ticket can be done directly via the router – without an external SMS gateway. Additionally, in case of user-defined network events, such as failures, you will be notified via SMS to your mobile phone.

Extended Data Budget Control
Full control over your data traffic
Maintain control over the usage of your data volume – especially of your cellular connections. Per WAN connection (DSL, 3G/4G, VPN tunnels, etc.), you can monitor the quantity of used traffic and have follow appropriate actions at a definable limit.

Adaptive Noise Immunity
Better WLAN throughput due to immunity against interferences
With Adaptive Noise Immunity WLAN clients benefit from significantly more data throughput, thanks to a trouble-free WLAN coverage. With Adaptive Noise Immunity the access point dismisses interferences in the radio field and focuses only on WLAN clients with sufficient signal strength.

Rapid Roaming
Fast roaming in controller-based WLAN environments
LANCOM Rapid Roaming (based on the technology Opportunistic Key Caching) enables fast roaming operations between access points for an optimal WLAN user experience. In controller-based WLAN installations with IEEE 802.1X authentication, the access keys of the clients are cached and automatically passed on to all managed access points.
Protel support of the LANCOM Public Spot PMS Accounting Plus Option – Compatibility certification on both sides of LANCOM hotspot solutions and hotel billing systems (PMS) of protel
WLC support for Hotspot 2.0 - Comfortable management of Hotspot 2.0 functionalities using profiles in the WLAN controller
Error page in the Public Spot in case of an inactive WAN connection - In case of an interrupted Internet access, the Public Spot user is shownan error message
Extension of national languages in the LANCOM Public Spot - Automatic adaption of the puiblic spot to the national language of the client for German, English, French, Spanish, Italian and Dutch
Public Spot login via credentials and confirmation of the general terms and conditions - More usability due to the possibility to confirm the general terms andconditions already with the login page
Public Spot bandwidth limitation for layer-3 tunnels - The available bandwidth for Public Spot users can also be individually configured for hotspot scenarios via layer-3 tunnels
Customizable templates for Smart Ticket - Based on HTML pages, you can create your own registration pages for Smart Ticket in the LANCOM Public Spot
Enabling and disabling of individual users in the RADIUS table - In absence, individual users can be temporarily disabled for network access and re-enabled at any time. Ideal for the Internet access of recurring guests!
Public Spot logout link - Via logout the hotspot user has the possibility to be redirected to the status page to log out there (optional / switchable)
Quick Config Rollback - Comfortable rollback to a previous configuration thanks to automatic configuration backup
Device login via RADIUS authentication - In addition to TACACS+, flexible login to LANCOM devices in the network is possible thanks to a centralized user management in the RADIUS server
IPv6 address is usable as a script variable - For the use of dynamic IPv6 addresses, the IPv6 WAN address can set up as a script variable in the LANconfig action table, for example for dynamic DNS services
Encrypted SSL login to e-mail servers - For an SSL-based encryption of credentials to an e-mail server, the SMTP client in LCOS supports the authentication methods and protocols "SMTP over TLS", "STARTTLS" and "CRAM-MD5"
Improved reliability for sending and receiving DHCP packets - The robustness of the address reference increase because the access point automatically converts DHCP broadcast responses from an external DHCP server to unicast
Setup wizard for VoIP providers - Setup wizard for a common use of LANCOM routers and cloud-based NFON PBX systems
LTE frequency band can be set manually - The use of the LTE frequency bands 800, 900, 1800, 2100, and 2600 MHz can be configured
NEW since LCOS 8.84 RU2:
Firmware update for the use of VDSL Vectoring - With the free-of-charge firmware update our devices LANCOM 1781VA, 1781VAW, and 1781VA-4G are equipped with the appropriate hard- and software to make use of the new Vectoring technology!
Changing SIM of card PINs - The PIN of a SIM card can now be changed easily via LANconfig
Content Filter extension for HTTPS websites - Blocking of HTTPS websites through the removal of DNS names by HTTPS server certificates or by "Reverse DNS lookup" of IP addresses. This functionality guarantees the correct handling of HTTPS websites via the LANCOM Content Filter in all cases.