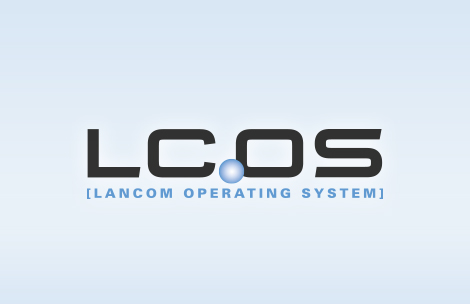 LCOS 9.10 SU10
LCOS 9.10 is a true power release for maximum performance and stability in WLAN infrastructures! In addition to that it contains more than 100 further features for a comfortable management for networks of any scale. Benefit from Smart Certificate on your LANCOM device for securely encrypted VPN connections due to a comfortable creation of certificates, from High Availability Clustering for highly available device groups, as well as many more features and detail improvements.

Smart Certificate
LANCOM sets a milestone in the security field
Maximum security for VPN accesses: As of now, all users benefit from the user-friendly functionality to create digital certificates - an external certificate authority (CA) is no longer necessary. VPN connections can be set up and securely encrypted with self-produced certificates. This maximum of security is included in all LANCOM central site VPN gateways, WLAN controllers, and all current LANCOM routers with the LANCOM VPN 25 Option.

High Availability Clustering
Grouping and central management of multiple WLAN controllers and central site VPN gateways
Group several WLAN controllers or central site VPN gateways to a high-availability cluster! With the LANCOM High Availability Clustering Options you can combine several devices to one cluster. As a consequence, there are many advantages like the central management and convenient configuration alignment (Config Sync) of all cluster devices. This is particularly beneficial for setting up intelligent backup scenarios since only one WLAN controller or central site VPN gateway has to be configured – an enormous time saver for administrators. Furthermore, you benefit from an automatic load balancing and the enrollment of cluster certificates.

More than 100 further features
More security, more management, more virtualization
Benefit from the many new possibilities to further professionalize your network management: As of LCOS 9.10 you can choose to encrypt your configuration, flexibly connect external networks via GRE tunnel as a "virtual Ethernet cable", you grant all an equal bandwidth for WLAN users per SSID, or you set up high-performance point-to-point connections via Gigabit wireless LAN with up to 1.3 Gbps.
Configuration of Wireless ePaper and iBeacon via WLC - The WLC creates profiles for wireless ePaper and iBeacon which can be rolled out for the configuration of the LANCOM E series access points.
Management of client bandwidth per SSID - Gain more control over the available bandwidth per WLAN client: The usable bandwidth per SSID (download and upload) can be granted to each client equally.
GRE tunneling - Maximum flexibility for the connection of distant networks: With Generic Routing Encapsulation (GRE) packages are embedded and transported between two end points via a tunnel.
Ethernet over GRE tunnel - The "virtual Ethernet cable" – ideal for the connection of two networks via layer-2 tunnel e.g. with IPSec VPN.
16 SSIDs - As of now, 16 individual SSIDs can be configured per WLAN radio module. Thus you can offer twice as many WLAN services simultaneously – for dual-radio access points with two WLAN radio modules even up to 32!
Display of used Public Spot licenses - The current and maximum number of Public Spot users is displayed in the LANmonitor with an additional notification at 90 % used capacity.
Load balancer client binding - New application options in load balancing scenarios – in demanding applications such as online banking related sessions of a WAN connection are recognized and maintained.
TR-069 support - "Zero-touch management" – in provider environments the protocol TR-069 allows an automatic provisioning and a securely encrypted remote management of a router.
Encrypted configuration storage in LANconfig - Do not allow unauthorized persons access to your configuration - in LANconfig you can securely save your configuration data with a password.
LANCOM Content Filter e-mail notification - At Content Filter incidents you can receive a notification via e-mail either immediately or on a daily basis.
Extended number of characters - The possible number of characters for assigning device names has been extended to 64.
New SCEP algorithms - More security for using certificates: The SCEP algorithms AES192 and AES256 for encryption and SHA256, SHA384, and SHA512 for signature control are supported.
New DynDNS providers in the setup wizard - The providers "Strato" and "feste-ip.net" have been added to the DynDNS wizard.
Configurable administration of WAN connections - The acceptance and administration of APs via WAN connections can be approved or forbidden.
LEDs can be deactivated via WLC - The LEDs of administrated WLAN devices can be centrally deactivated via the WLAN controller.
Monitoring of configuration changes - Easy monitoring of configuration changes thanks to the display of hash data, time stamps, and change counters.
Improved control of Public Spot volume budgets - As of now, you can set more than 4 GB data volume limit in the Public Spot volume budget and additionally print the defined budget per user on the voucher.
Direct access to the voucher generation in the Public Spot - Vastly simplified access for the generation of Public Spot vouchers due to an automatic forwarding to the respective interface – ideal for untrained staff!