vFirewall
The LANCOM vFirewall is a virtual next-generation firewall for versatile operations in conventional networks and cloud scenarios. While it offers the same functionality as hardware-based unified firewalls, it has no conventional hardware to take up space. It operates in a virtualized environment based on a hypervisor such as VMware ESXi, Oracle VirtualBox or Microsoft Hyper-V. The flexible licensing model allows your firewall to "grow" with your needs in terms of UTM performance and network size.
Virtual, software-based firewall for operation with VMware ESXi, Oracle VirtualBox or Microsoft Hyper-V
Intuitive network visualization for easy implementation of security and compliance requirements
Detailed filtering and validation of applications and protocols
Protection against spam, viruses, malware, and complex cyber attacks
For our international LANCOM customers
To get the ISO file for installation please contact us via sales@lancom.de or by telephone at +49 2405 49936 122.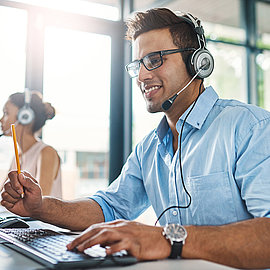 Most questions can be resolved best in direct contact: We look forward to answering your questions and requests by phone or via the contact form.
Inside Sales International Team
+49 (0)2405 49936 122