LANCOM Config Service
Hint: Appointments available as from CW 35.
The LANCOM Config Service gives you expert support with the configuration of your LANCOM devices or network infrastructure. Have a member of the LANCOM support team work directly to set up your network. There are two possible ways for you to benefit from our expert know-how; either during a remote session, or by a LANCOM technician visiting you directly on site.
The LANCOM support designs an individual configuration according to your needs
Config Service Remote: Supervision and support of the configuration and start-up via telephone, e-mail or remote session
Config Service On-Site: On-site support from a LANCOM support staff member for one day (max. 8 hours, by appointment)
For all LANCOM products
Support by remote access or on-site
The LANCOM Config Service gives you expert support direct from the manufacturer while you configure your devices. Depending on your needs, we can support you by remote session or directly with you on-site.
Access to the LANCOM support
LANCOM Config Service vouchers give you full access to the employees in our LANCOM support. They work with you to design a configuration that is individually tailored to meet your needs.
Cost reduction from reduced commissioning times
Professional support from an employee in LANCOM's LANCOM support helps you to quickly configure your network or integrate new hardware components into your existing infrastructure. This saves you valuable staff resources and cuts costs.
Less potential for configuration errors
The reliability of any network strongly depends on having the right technology and the best configuration. Thanks to the LANCOM Config Services, you always have a LANCOM expert at your side to configure your network to meet your needs, not only now but also in the long term.
Appointment arrangement via e-mail
Please include your voucher number in the subject line of your e-mail to: services@lancom.de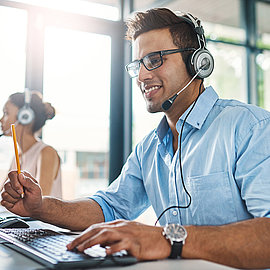 Are you interested in one of our service and support products?
Order here:
If you need any further help do not hesitate to contact our support team:
LANCOM Support Team
+49 (0)2405 49936 210