AirLancer USB-300agn
Wireless network adapter for IEEE 802.11 a/g/n
Are you migrating your company to the new wireless LAN standard IEEE 802.11n, but you don't want to exchange all of your clients in one go? Then this high-performance business WLAN adapter is the perfect solution for you:
The AirLancer USB-300agn supports not only IEEE 802.11n, but all of the current WLAN standards. This adapter enables even client devices without an integrated 802.11n module to achieve gross data transfer rates of up to 300 Mbps. It features two integrated antennas and transmits either on the 2.4- or 5-GHz band.
This adapter meets with the most demanding professional security requirements thanks to 802.1x/EAP authentication and hardware AES encryption as per IEEE 802.11i/WPA2.
The AirLancer USB-300agn is compatible with the operating systems Microsoft® 2000/ XP/ Vista/ 7/ 8.1.
The package includes a 1.5-meter long cable for better positioning.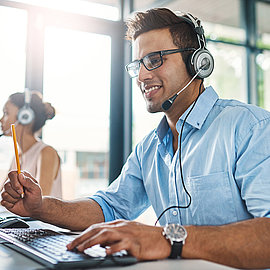 Most questions can be resolved best in direct contact: We look forward to answering your questions and requests by phone or via the contact form.
Inside Sales International Team
+49 (0)2405 49936 122