LANCOM GS-3528X
This 28-port multi-Gigabit access switch is the ideal solution for data-intensive infrastructures. With 12x 2.5-Gigabit Ethernet ports, it provides the high-performance basis necessary for operating Wi-Fi 6 access points and other network components with high performance requirements. Also featuring 12x Gigabit Ethernet ports, 4x SFP+ ports, and basic layer-3 features such as static routing and DHCP server, this is the expert device for smart management with numerous security features for small and medium-sized networks.
Multi-Gigabit access switch with 12x 2.5-Gigabit Ethernet ports, 12x 1-Gigabit Ethernet ports, and 4x SFP+
Basic layer-3 features like static routing and DHCP server
PoE support as per IEEE 802.3af/at (1G ports) and IEEE 802.3bt Type 4 (2.5G ports) with up to 740 watts
Security with configurable access control on all ports as per IEEE 802.1X
Secure remote management through TACACS+, SSH, SSL, and SNMPv3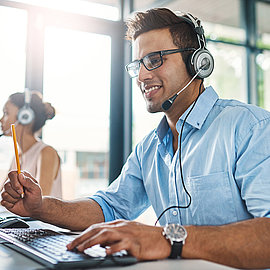 Most questions can be resolved best in direct contact: We look forward to answering your questions and requests by phone or via the contact form.
Inside Sales International Team
+49 (0)2405 49936 122