LANCOM Wireless ePaper Displays (WDG-2)
Radio-controlled digital signage
Wireless ePaper Displays from LANCOM offer state-of-the-art digital signage for a wide range of applications. The displays are controlled by an innovative wireless technology with extremely low power consumption. They provide flicker-free viewing from any angle. The contents are always visible under artificial lighting. The Wireless ePaper Displays are managed and monitored by the high-performance LANCOM Wireless ePaper Server that comes with an interface (API) for connecting to calendar-management and merchandise-management systems. With the display options of black, white, and red, specific highlights can be presented.
Extended manufacturer support incl. 24/7 emergency hotline for projects

Availability: 24h / 7d

(on request)

Extended manufacturer support for projects

Availability: 10h / 5d

(on request)
* Availability: 8-10h / 5d, response time: 4h-1d (depending on partner level). Times are given in hours (h) per days (d).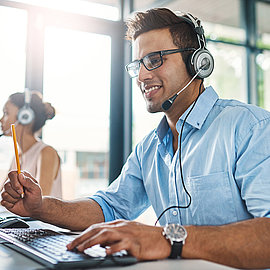 Most questions can be resolved best in direct contact: We look forward to answering your questions and requests by phone or via the contact form.
Inside Sales International Team
+49 (0)2405 49936 122