LANCOM Wireless ePaper Displays (WDG-2)
Radio-controlled digital signage
Wireless ePaper Displays from LANCOM offer state-of-the-art digital signage for a wide range of applications. The displays are controlled by an innovative wireless technology with extremely low power consumption. They provide flicker-free viewing from any angle. The contents are always visible under artificial lighting. The Wireless ePaper Displays are managed and monitored by the high-performance LANCOM Wireless ePaper Server that comes with an interface (API) for connecting to calendar-management and merchandise-management systems. With the display options of black, white, and red, specific highlights can be presented.
Digital Signage with LANCOM
Door signs, price labels, shelf labels, menu cards – information that used to have to be laboriously put on paper and continuously updated can now be transmitted quickly, standardized, and automated with digital signage. As electronic shelf labels, digital advertising posters or menus, and electronic door signs for meeting rooms, classrooms, and treatment rooms, the wireless ePaper displays from LANCOM can be effortlessly integrated into the WLAN and synchronized with calendar and merchandise management systems.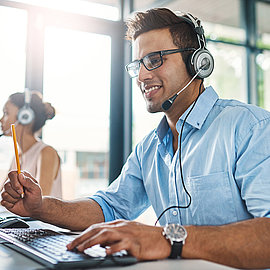 Most questions can be resolved best in direct contact: We look forward to answering your questions and requests by phone or via the contact form.
Inside Sales International Team
+49 (0)2405 49936 122