Trustworthy IT infrastructures - the basis for your digital sovereignty
Setting up a company is a full-time job: developing your business, convincing customers and entering the market takes courage and perseverance. You have the innovative ideas for the digital future. And who takes care of your IT?
This year, LANCOM Systems is celebrating 20 years of IT made in Germany and has thus created a counter-offer to the dominance of American and Asian network manufacturers that is unique in Europe.
Pitch your business to gain your IT-network – total 20.000 EUR budget
To mark this occasion, we would like to promote young digital talent and are awarding prizes in a start-up competition to the best sales pitches with LANCOM network solutions worth a total of 20,000 euros!*
1. Price: 10,000 euros in hardware or software from LANCOM Systems
2. Price: 7,000 euros in hardware or software from LANCOM Systems
3. Price: 3,000 euros in hardware or software from LANCOM Systems
*The offer includes advice from LANCOM Systems on your existing network technology as well as hardware (e.g. routers, access points or firewall solution) or software (e.g. VPN clients) from LANCOM Systems GmbH as part of the prize.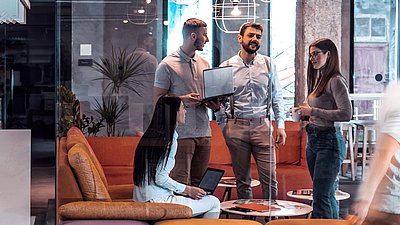 Apply now for a trustworthy IT infrastructure made in Germany for your start-up headquarters. Because with a modern and digitally superior network solution, you'll be on the safe side right from the start - and have your head free for your business.
You are only one pitch away from top network technology made in Germany:
Register via the participation form.
You will receive information on how to send us the video pitch for your business model.
The five most convincing submissions received by August 31 will pitch their business model live at the virtual jury meeting end of October - your chance to win one of the three prizes for your team.
Your jury? Your pitch has to shine: convince our jury, consisting of entrepreneur and start-up insider Dr. Oliver Grün, tech influencer Sophia Tran, and founder and CEO of LANCOM Systems, Ralf Koenzen.