Innovative beacons with Bluetooth Low Energy
iBeacon a standard for indoor positioning introduced by Apple Inc. "Beacons", in the best sense of the word, are small hardware modules that continually transmit radio signals based on Bluetooth Low Energy (Bluetooth version 4.0). Clients like smart phones or tablet PCs can receive these signals as soon as they are in the range of the iBeacon. iBeacons in the proximity are recognized, whereupon certain marketing actions, as for example push-messages directly at the point of sale, can be triggered via an app. For certain iOS devices this iBeacon-based app is even automatically activated and does not have to be actively opened. This technology allows many fields of application to increase their customer appeal, as for example in shops, museums, restaurants, and other institutions.
iBeacons send signals via the radio standard Bluetooth Low Energy (version 4.0). Bluetooth LE is extremely well-suited for near-field communication and has the advantage that its power consumption is significantly lower compared to classic Bluetooth and can be implemented very cost-efficiently. Apart from Apple clients as of iOS 7, many new clients with the Android operating system also support this technology. A big surplus, as the possibilities which can be implemented with iBeacons can reach the broad mass of customers.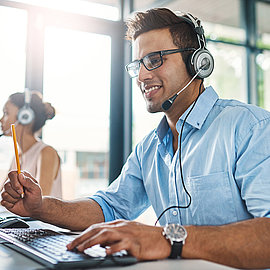 You have questions about our products or solutions, or are you looking for a LANCOM sales partner? Then let us know your wishes via contact form or feel free to contact us by phone.

Inside Sales International Team
+49 (0)2405 49936 122