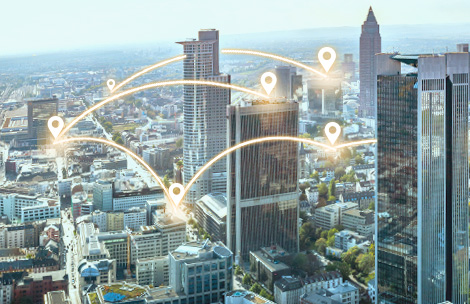 What is SD-WAN?
A software-defined wide area network (SD-WAN) replaces conventional, static, manually configured network infrastructures. As digitalization demands ever-higher bandwidths, highest network availability and data security, as well as fast time-to-service requirements, an SD-WAN offers significant advantages for the networking of distributed enterprise sites. It uses Internet-based simple wide area networks (WANs) to rapidly provide digital services. On-site visits by qualified technicians at multiple company locations are no longer necessary.
The main advantages of an SD-WAN

Reduced costs
With a LANCOM SD-WAN you dramatically reduce your WAN operating costs (OPEX). Expensive MPLS lines are either supplemented or replaced by low-cost Internet connections (DSL, fiber optic, cable, LTE, 5G). Expensive field-service operations and the complex configuration of individual devices are now superfluous with an SD-WAN—new routers are easily commissioned using "zero-touch deployment". In many cases, little or even no investment in hardware (CAPEX) is required: LANCOM routers and VPN gateways that are already in use simply stay in operation.

More bandwidth
A simple DSL connection or MPLS line often does not provide modern businesses with enough bandwidth to run power-hungry online applications and cloud services. Fast fiber optical connections are not in sight in many places. The solution: a hybrid WAN. Through the parallel use of several Internet accesses available at the site (DSL, fiber optic, cable, MPLS line, etc.), the disposable bandwidth is increased as needed. Internet access via LTE serves as a backup for maximum system stability. A LANCOM SD-WAN infrastructure provides highly efficient load balancing for intelligent load distribution over all Internet lines and optimum performance for WAN applications.
More information in our whitepaper on load balancing

Maximum agility
Manually configuring WANs in static networks at dispersed locations is complex, time-consuming, and error-prone. An SD-WAN from LANCOM reduces this task to just a few mouse clicks: New applications, workplaces and entire locations, wherever they may be, are automatically rolled out and immediately integrated into the central 24/7 monitoring. This even makes an entirely new experience of remote troubleshooting: Smooth operations are assured by the quick detection of network failures and their causes, so you can respond immediately and proactively.
New momentum for your SD-WAN
Powerful SD-WAN functions are now available in the LANCOM Management Cloud (LMC), taking the scalability and efficiency of the wide-area networks of medium-sized and large companies to the next level.
Maximum scalability and availability
The next-generation SD-WAN technology High Scalability VPN (HSVPN) developed by LANCOM brings a significant increase in scalability and efficiency to LANCOM VPN and SD-WAN architectures with many remote sites and applications. Furthermore, if multiple WAN connections are defined for a site, these are now automatically operated in active/active mode (Load Balancing), thus increasing the available total bandwidth. Dynamic Path Selection is another SD-WAN optimization feature that dynamically routes applications over the best connection at any given time. The feature continuously monitors the WAN connections in terms of load, packet loss, latency as well as jitter and decides on the optimal line for specific applications depending on the connection quality.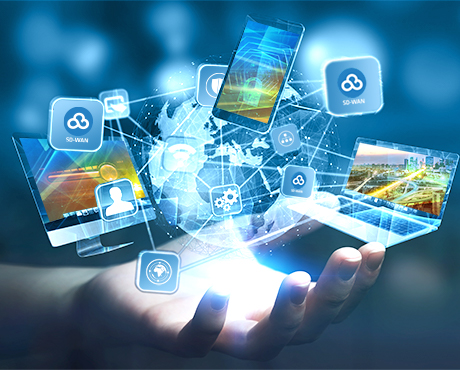 Unbeatable benefits of a LANCOM SD-WAN
Replacement of expensive MPLS lines
Whether as a replacement of individual, dedicated lines or as global, highly scalable VPNs with thousands of connections—IPSec-based multi-service networks have been the core competence of LANCOM Systems for more than 8 years. For this purpose, existing, low-cost internet lines are applied to extend or replace costly MPLS connections.
Network Function Virtualization (NFV)
A LANCOM SD-WAN supports the application of virtual machines (VM) and whitebox routers. LANCOM vRouters and LANCOM vFirewalls are fully integrated into the LANCOM Management Cloud and thus com-prise a perfectly aligned cloud-managed solution for the functional areas of SD-WAN (routing), SD-SECURITY (UTM firewalling), and SD-WLAN (hotspot gateway / WLAN controller).
Dynamic Path Selection
At sites with multiple WAN connections, Dynamic Path Selection ensures that business-critical applications, for example, are always routed over the best-quality line. Furthermore, cloud-based applications such as Office 365 can be detected and routed directly to the Internet (local break-out), while undesired applications are blocked completely in certain network areas (Layer-7 Application Management). Multiple WAN connections are used simultaneously in active/active mode (Load Balancing).
Techpaper Dynamic Path Selection
Secure WAN network separation
LANCOM Advanced Routing and Forwarding provides the definition and secure shielding of multiple IP networks. VLANs are transmitted securely separated end-to-end via the WAN—even overlapping IP network segements are possible. For highest security and performance the proprietary protocol "LANCOM High Scalability VPN" (HSVPN) is employed. The result: Full security thanks to IKEv2 and highest availability thanks to decentralized system architecture without a central SD controller are combined with maximum performance. Techpaper HSVPN
Auto configuration and zero-touch deployment
With a LANCOM SD-WAN the configuration of individual devices is a thing of the past: all current LANCOM routers are cloud-ready and are rolled out and automatically configured via "zero-touch deployment". On existing internet lines, devices with Ethernet interface can self-actingly reach the LANCOM Management Cloud for auto configuration. On BNG lines*, even devices with integrated DSL modems can automatically establish the WAN IP connection.
Central (cloud) management
The LANCOM Management Cloud is the central management entity for the entire infrastructure in the areas of WAN, LAN, WLAN, and SECURITY based on innovative software-defined technology. Via a graphical user interface you only have to define the target scenario—the manual configuration of individual devices is a thing of the past. Whether as public cloud or as private cloud for large-scale enterprise networks and service providers: the LANCOM Management Cloud provides maximum agility, flexibility, quality, and security for your network.
Scalable. Efficient. Secure.
LANCOM's SD-WAN solution offers tremendous advantages in terms of scalability, efficiency, and security when compared to non-EU competitors.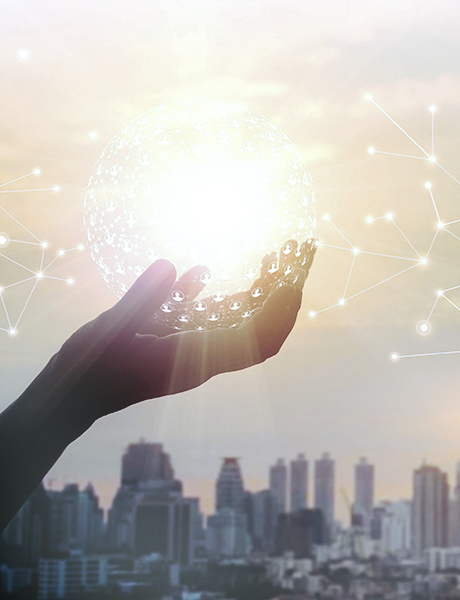 Highest efficiency
A LANCOM SD-WAN stands for scalability and efficiency. Whatever number of digital applications you use in your network: While they all remain securely and strictly separated from one another, different locations are each provisioned by a single VPN tunnel. This is based on the technology known as LANCOM High Scalability VPN (HSVPN). The advantage of this is that significantly fewer VPN tunnels are required and recovery times in case of failover are considerably reduced. We rely on state-of-the-art encryption with IKEv2 IPSec VPN according to the specifications of the BSI (German Federal Office for Information Security).Techpaper HSVPN
Versatile connectivity
A LANCOM SD-WAN uses whatever connection types are available on-site. This offers you a cost-effective and reliable alternative to pure MPLS connections or expensive leased lines. This is implemented by the support of LANCOM SD-WAN infrastructures of "active/active operation" for efficient, simultaneous use of all Internet lines and top performance for WAN applications.
The most comprehensive portfolio on the market
LANCOM SD-WAN stands for the most comprehensive portfolio of connections on the market, including fiber optics, xDSL, Gigabit Ethernet, Super Vectoring, 4G, LTE-Advanced, and 5G. The devices are produced and shipped "SD-WAN ready", commissioned by zero-touch deployment and completely automatically configured—even at DSL connections.
Virtualization – instant and at any time
Cut your hardware costs with LANCOM SD-WAN: NFV (network functions virtualization) virtualizes your routers and VPN gateways in a way that meets your needs, i.e. on existing server hardware or as a white-box router. The LANCOM vRouter integrates into the central network orchestration just like your hardware router. And that's not all: By doing away with dedicated hardware, the virtual router is provisioned within seconds!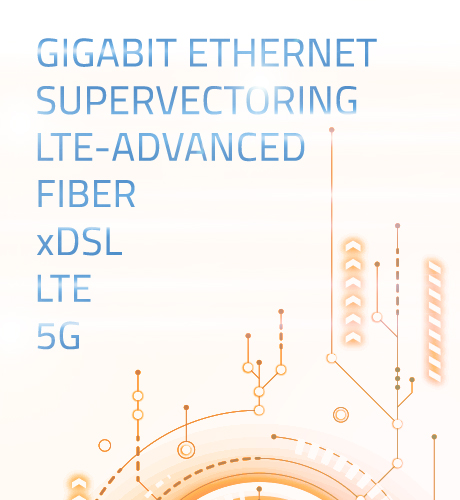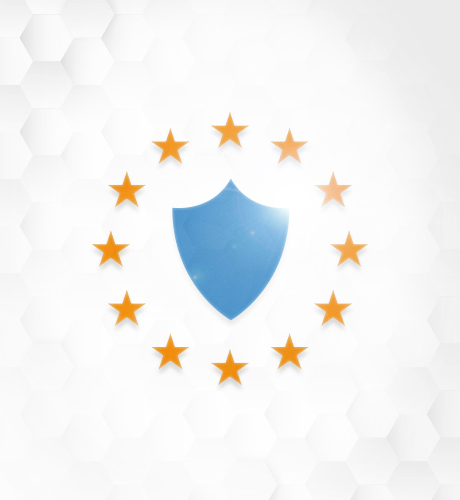 Full compliance with European security standards
Based in Germany, LANCOM Systems GmbH is a leading European manufacturer of network and security solutions. At the heart of the company's philosophy is the principle that the Public Cloud variant of LANCOM's network management system, the LANCOM Management Cloud (LMC), is hosted and operated in Germany. We fully comply with the requirements of the GDPR. Compared to non-EU competition, LANCOM is free of any obligation to comply with the Cloud Act or similar laws.
Public Cloud or Private Cloud
LANCOM SD-WAN stands for versatile operating models: The central and securely hosted Public Cloud based in Germany guarantees maximum scalability and data security for installations of all sizes. Alternatively, the Private Cloud variant is hosted in the data center of your choice.
A LANCOM SD-WAN is the basis for SD-Branch
With a LANCOM SD-WAN you create the foundation for a comprehensive networking of distributed corporate sites. Discover how the LANCOM SD-Branch solution caters for an additional highly integrated approach for the orchestration of all network segments (routers – WAN, switches – LAN, access points – wireless LAN, firewalls – security) in branch infrastructures. All devices are orchestrated collectively and automatically—for more than 70% time savings in your daily business.
Learn more about the unique solution approaches on the following topic websites: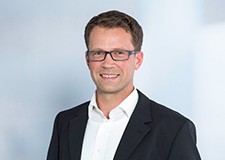 Inquiry
You have questions about our products or solutions, or are you looking for a LANCOM sales partner? Then let us know your wishes via contact form or feel free to contact us by phone.


Inside Sales International Team
Phone: +49 (0)2405 49936 122