No more long searches without real success
It's good when a competent partner masters modern site connectivity. For us, there is no alternative to networking and security. Our network experts explain how this works. To give hands-on information we have set-up a Masterclass webinar series on the topic site connectivity. The sessions will provide a deep-dive into different aspects.
You'll receive your personal solution expert certificate when participating in at least 2 live-modules and view the missed out session recordings
Planning, building and operating high-throughput, secure branch infrastructures requires trust and expertise. An appreciative partner for the specific tasks at eye level. A provider who values personal exchange.
We will answer all your questions live in our LANCOM Online Masterclass. Hands-on and practical.
You have the questions, we have the answers
Have you ever asked yourself at least one of the following five questions for your business network?
Then you've come to the right place.

1. Options for improved efficiency?
Better efficiency for all components with zero-touch provisioning—so enabling automatic roll-outs across sites.

2. How can I support collaborative, data-intensive working?
Efficient use of all lines available on site—in particular for video-chat applications and large data transfers.

3. Interference-free Wi-Fi?
Add new functions to traditional WLAN controllers, including maximum automation, maximum agility, and access from anywhere.

4. Can I integrate VoIP?
IP-based networks integrate any service, including telephony, TV or mobile communications, all on a shared infrastructure—with significant cost savings.

5. How about security?
Operating Unified Threat Management at the headquarters or branch offices provides reliable protection of networks and data against undesirable contents such as spam, viruses, or malware. Security is more important than ever!
Experience from more than 100,000 projects
Experience is elementary in the implementation of complex site connectivity.
We are the network specialist for all medium-sized businesses. Made in Germany with experienced manufacturer support. 100% subsidiary of the German technology company Rohde & Schwarz.
8,800 references – SD-WAN site connectivity in Europe
It is one of the most impressive and modern networking projects in recent years: Almost 8,800 locations form one of the largest SD-WANs in Europe.
LANCOM Systems realized the project together with the Düsseldorf ICT company ecotel for a well-known German customer.
The network was rolled out, managed and monitored using software-defined networking technology based on the LANCOM Management Cloud. The system automatically transfers previously defined security specifications from the system to the sites. Each site is connected by a powerful IPsec VPN router.
The LANCOM Management Cloud reduces processing costs and the work involved in management and monitoring.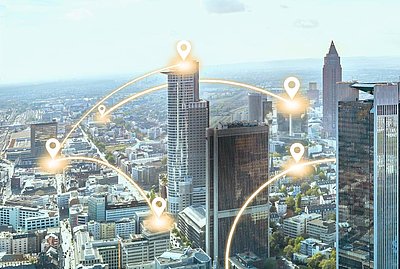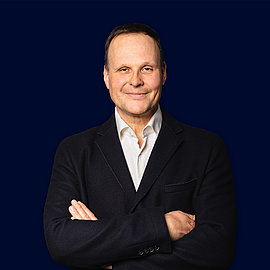 Talk with our network experts – in the Online Masterclass
"We know that site connectivity is highly complex. This challenge can be mastered through shared dialog. Spare yourself long searches without real results. In our 30-minute live Online Masterclass we give you valuable tips on what you really need."
Christoph Spitzer,
Director Pre-Sales