LANCOM MSP-Care-24/7
As an IT infrastructure service provider, your mission is to keep your customers' networks highly available at all times. Downtime causes enormous pressure, because the incident needs to be remedied as quickly as possible. This is why you benefit from 24/7 support from our most experienced support staff – guaranteed within 30 minutes in the event of a major incident after notification via telephone. Regular review meetings to discuss the performance of your customer networks help to optimize the cooperation between the managed service provider (MSP) and LANCOM Support: All of this serves to identify causes and patterns of disruption and reduce future downtimes.
Full service package for managed service providers who secure high-availability network scenarios
24/7 emergency support with guaranteed initial response time of maximum 30 minutes in the event of massive operational disruptions (notification via telephone required)
Extended service hours (Mondays to Fridays, from 8 a.m. to 6 p.m.) with guaranteed response time of max. four hours for requests outside emergency support
Direct access to LANCOM support
Continuous improvement from quarterly review meetings
Terms and conditions are agreed individually
At least one customer employee must be LANCOM certified
Booking after written offer
We are happy to prepare your individual offer for the LANCOM MSP-Care-24/7 Support. Please contact us by phone: +49 (0) 2405/49 93 6-210 or by e-mail at services@lancom.de.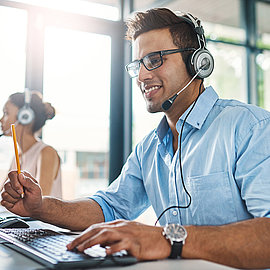 Are you interested in one of our service and support products?
We will gladly make you an individual offer.
If you need any further help do not hesitate to contact our support team:
LANCOM Support Team
+49 (0)2405 49936 210