Software Lifecycle Management
Reliability and future-proofness – two vital elements for any administrator or controller when planning and setting-up a network. With LANCOM Systems, you have a manufacturer at your side providing a matchless investment protection. For your LANCOM infrastructure, we provide full transparency and reliable planning with regard to firmware updates. As an aid to conceptualize trategic planning of your network of your network, you will find our policies and information on the status of your devices on this website and in the following infopaper.
Latest software status for your LANCOM device
We have drawn up a number of tables to provide you an overview of our current and End of Sale products. These comprise all of our products with their End of Sale date, the firmware version they support, and information about the time frames concerning further feature updates and technical manufacturer support.
Overview of the current firmware maintenance
You would like to know whether a new software update is available for your devices or whether your firmware version is still being maintained? Please use our overview of the currently supported versions of the free operating systems LCOS, LCOS FX, LCOS LX, and LCOS FX for the entire device portfolio of LANCOM Systems.
A LANCOM product is given the status EOS (End of Sale) as soon as it is no longer on sale from LANCOM. After official discontinuation via the price list, you will receive from LANCOM for at least a 2-year period:
Free major releases with new features and release updates with general improvements and bug fixes
Critical security updates based on the last applicable firmware version
Free technical manufacturer support (for central network components exclusively for LANcommunity partners)
A device is given the status EOL (End of Life) five years after the official discontinuation. From that date on, neither major, minor, release, or security updates nor technical manufacturer support will be available for the product (separate regulations apply to the LANCOM R&S®Unified Firewalls).
We recommend replacing the device with its successor.
For existing support contracts, the individual terms and conditions apply.
If your device is still covered by a warranty beyond the period of two years after EOS, you will of course continue to receive security updates and technical manufacturer support.
To ensure that you are reliably covered until the End of Life date, we recommend the service packages LANcare Basic and LANcare Advanced. It is best to register for these packages when you purchase your device – at the latest within the first three months. In addition to security updates and manufacturer support, you also receive a convenient five-year replacement service for the respective device.
Switches with the LANCOM Limited Lifetime Warranty even benefit from a warranty up to the End of Life status of the device (max. 10 years), regardless of their operating time.
Find out more in the info paper LANCOM Limited Lifetime Warranty.
How does the lifecycle of your LANCOM product look like?
What happens if you buy your device two years before or even exactly on the EOS date? Which lifecycle policies apply to the LANCOM R&S®Unified Firewalls? Answers to these and other questions can be found in our infopaper with the LANCOM lifecycle policies. It serves as a transparent guide and assistance for your network planning.
Discover the new LANcare products
With LANcare Basic and LANcare Advanced, you are assured of security updates for your LANCOM device throughout the entire product lifecycle – that is, for at least five years until the End of Life (EOL) status of the device. With LANcare Advanced, an included next-business-day advance replacement ensures continuous business operations and minimal downtime.
The notation of our operating system versions always follows the same pattern. The following graphic illustrates how you can differentiate major from minor versions and recognize the development status of the firmware.
Software development: Version labels
Our free operating systems LCOS, LCOS FX, LCOS LX, and LCOS SX are constantly undergoing further development. The following information explains our notation of the development status and version labels.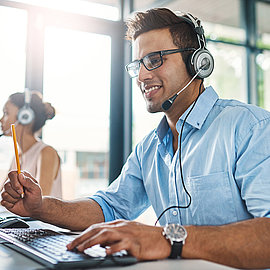 Most questions can be resolved best in direct contact: We look forward to answering your questions and requests by phone or via the contact form.
Inside Sales International Team
+49 (0)2405 49936 122