AirLancer O-360Q-5G
The LANCOM omni-directional antenna AirLancer O-360Q-5G is an outdoor antenna that offers a wide frequency band for application in both 5G as well as 4G/LTE networks. With its 4x4 MIMO capability, it exploits the maximum 5G performance, making it the best choice for connecting to LANCOM 5G routers. The permanently connected, 5-meter long connection cable as well as the supplied mounting material allows flexible installation of the antenna both directly on building facades and on masts.
5G for maximum availability
The fifth generation in mobile communications is the forward-looking successor to 4G (LTE) and uses the radio interface New Radio (NR). With best bandwidths, 5G ensures high-performance use of real-time applications such as video streaming or augmented reality. With currently unsurpassed speed at lowest latencies, the 5G standard is ideal for environments with a high user density.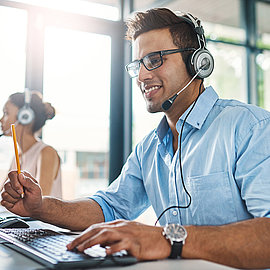 Most questions can be resolved best in direct contact: We look forward to answering your questions and requests by phone or via the contact form.
Inside Sales International Team
+49 (0)2405 49936 122