AirLancer ON-QT90
The weatherproof LANCOM AirLancer ON-QT90 sector antenna with a beam angle of 90° is ideal for Wi-Fi coverage over larger areas, such as warehouses and factories. With 4x4 MIMO support, it ensures maximum performance for reliable Wi-Fi client connectivity in difficult environments, especially where reflections and scattering occur. Due to its tri-band capability on all four ports, this antenna is perfect for mixed operation in the 2.4, 5, and 6 GHz bands.
Mounting kit for wall and pole mounting, cable and adapter included
Connects to LANCOM indoor access points via the adapter AirLancer AN-RPSMA-NJ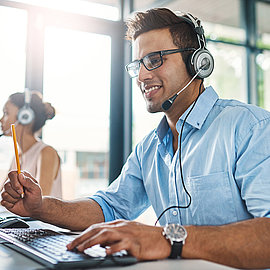 Most questions can be resolved best in direct contact: We look forward to answering your questions and requests by phone or via the contact form.
Inside Sales International Team
+49 (0)2405 49936 122