Every corporate network has its own everyday challenges when it comes to secure and reliable networking. Individual high-quality network components are a good basis, but only in combination with a systemic, well thought-out networking strategy and the appropriate know-how about the latest technologies do they become an efficient solution for your IT network.
For us, it's all about taking a realistic view: How is your network currently designed? What technical requirements should your IT network meet? What do you need and – more importantly – what do you want? We will find suitable, feasible solutions for your concerns and problems in the areas of site networking, network security, and network management for various industries using the latest technologies. Because the time is now to solve what's on your mind. Ideally with a highly secure complete package that preserves your data sovereignty and strengthens your digital sovereignty. That said, which of your network requirements are we implementing together today?
Overview of LANCOM solutions
What does it take for efficient site networking? How can you increase your network security? Can't system administration be simplified and improved through automation? Find out on the following web pages which specific solutions and technologies are available for your individual company network.
Reliable. Scalable. Trustworthy. These are our core features of all site networking solutions. And we will flexibly find a professional solution for every individual requirement in your IT network. Take advantage of our long-standing years of experience and expertise in one of the most important areas of digitization and browse our pages for comprehensive information on network solutions tailored to your needs.
Are you already protecting your internal IT infrastructure well enough? In our solution area, we offer you comprehensive security expertise – from the basics to Unified Threat Management and risk management. Take advantage of our expertise in network security and IT security and protect your company network quickly, effectively and securely from external access and manipulation.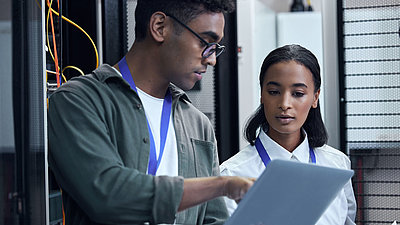 The reform of network management is called LANCOM Management Cloud! This central management and monitoring tool simplifies the processes that often tie up a lot of time and resources: The initial setup of a secure, reliable network, the connection of multiple sites of a company or branch offices, or the troubleshooting of network problems – all of these become quickly completed processes with just a few mouse clicks.
Small and mid-size enterprises (SME)
Medium-sized enterprises have their own unique requirements for their IT infrastructure – but it must be powerful, capable of growth, and secure no matter what. Turn your IT network into a valuable collaborating entity with LANCOM by understanding it as a digital foundation that increases your value creation, productivity, customer loyalty, competitiveness, and future viability. We take you on your personal digitization journey, from one SME to another.
We always give a little bit more: That's why we have made it our mission to make you an expert in secure networks and sensible IT infrastructures. After all, knowledge and a feel for new technologies are the foundation for acting with digital confidence. On our technology web pages, you will find comprehensive information on current technologies, such as the Wi-Fi standard Wi-Fi 6E or the 5G cellular radio communication standard.