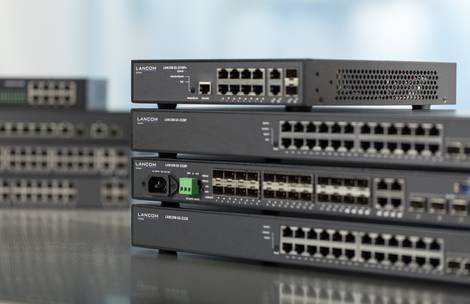 Frequently asked questions about ethernet switches
LANCOM Switches are the perfect extension to a professional network architecture for every size. Whether you get websmart or unmanaged switches for simple network scenarios or fully managed switches for complex scenarios.
What is the difference between a managed, an unmanaged, and a websmart switch?
The main difference between these types of switches are the range of feature sets and the ways that they can be configured. Managed and websmart switches can be controlled via a user interface which, for example, allows the management of authentications, port prioritization, VLAN setup, or even the monitoring and blocking of ports. These functions are often essential in professional environments as they can increase security levels, contribute to effective networking, and thus they can save costs. While websmart switches are configured with the aid of the web interface, managed switches offer the additional options of network orchestration by the LANCOM Management Cloud, and even console-based configuration. LANCOM managed switches also have a serial interface and enable virtual stacking. Unmanaged switches cannot be configured and are simply low-cost distributors in situations where the functions mentioned above are not required.
How are LANCOM switches integrated into the LANCOM Management Cloud?
All managed switches of the GS-23xx series become Cloud-ready with a firmware update to version 3.30 (a detailed firmware overview can be found here). Integration into the LANCOM Management Cloud requires the serial number and a PIN, which are delivered with the device. Alternatively, you can generate an activation code via the user interface of the LANCOM Management Cloud. The device is then integrated into the Cloud with the help of LANconfig.
What are the benefits of managing a switch through the LANCOM Management Cloud?
The LANCOM Management Cloud handles the combined management and monitoring of the switches. This guarantees an excellent overview and maximum control over all of the switches on the network. Thanks to SD-LAN, you also benefit from radically simplified management that allows you to roll-out predefined configurations to any number of devices simply by mouse click.
What do we understand by SD-LAN?
SD-LAN orchestrates the port profiles for each switch and automatically assigns the necessary network configuration, e.g. the required VLANs. At the click of a mouse, switch configurations that are fully customized for the access points and routers at each site are rolled-out or updated simultaneously.
How do LANCOM switches contribute to virtual networking?
VLAN-capable LANCOM switches can be integrated into LANCOM Advanced Routing and Forwarding. This function creates an infrastructure of different independent subnets (VLANs) which are only accessible to authorized users. With a single infrastructure, different network participants (employees, customers) have access to different subnets and are unable to access information from the other networks. These switches provide a clean-cut separation of WLAN subnets (VLAN) for forwarding into the wireline network. Because switches can recognize VLANs, they form the link between WLANs and wireline networks and serve as a basis for professional network virtualization. And professional networking has numerous benefits: Shared infrastructure helps to improve efficiency when using existing hardware, so saving considerable costs by avoiding new purchases.
How long does the manufacturer warranty on the devices last?
Every day, our customers rely on products manufactured in Germany to the highest standards of quality. These quality standards also include fast support, just in case things should go wrong. For this reason the unmanaged and websmart switches come with a 2-year warranty. For LANCOM managed switches, there is even a 5-year warranty on all components. Additionally you can obtain the Warranty Advanced Option to secure your network even more. It offers the benefit of a replacement device on the next business day.
Are the switches fit for the future?
Thanks to dual-stack implementation, the switches operate in pure IPv4, pure IPv6, or mixed networks. This means that it can be managed via both IP address standards, which makes it fully future-proof. The necessary level of security is provided by the IEEE 802.1X standard, which is used to manage network access rights. It handles the work leading up to the actual authentication at the network. In the simplest case, IEEE 802.11X requires the use of a managed "intelligent" network switch and a RADIUS server for authentication. Furthermore, LANCOM is a German company under German ownership and management, and as such it is not subject to the law or the influence of other states which demand the installation of backdoors or allow the recording of unencrypted data. This allows LANCOM to guarantee you an absolutely backdoor-free portfolio of products. LANCOM's own switch operating system Switch OS comes with regular free updates with new features, and is programmed in the high-security environment at the LANCOM headquarters near Aachen, Germany.
When do I use which model of switch?
The LANCOM line of switches offers future-proof switch solutions at a fair price for sophisticated edge networks in small and medium-sized enterprises. All of our switches are ideal for environments outside of IT rooms due to their extremely quiet fans or fanless design.
LANCOM 23xx series fully managed switches
Companies that use network virtualization to save costs and optimize their capacities profit from intelligent managed switches because they support up to 256 active VLANs and feature port prioritization compliant with IEEE 802.1p or TOS/DiffServ. Depending on the model the GS-23xx series comes with 10 – 52 ports, PoE for up to 370W, as well as models with 10G uplinks. All in all, this series offers a versatile range of fully-managed switches for small or home offices and large networks. It supports SD-LAN for automatic switch configuration via the LANCOM Management Cloud for an extremely easy and efficient way of managing your infrastructure.
Websmart switch
The inexpensive websmart switch is the ideal alternative for companies that want to operate virtual networks but, rather than having the full feature set of the managed switches, they are instead interested primarily in lower power consumption. With its 26 ports, the GS-1326 is a websmart switch that is particularly suitable for small and medium-sized enterprises.
Unmanaged switches
The LANCOM GS-1108 and GS-1108P are unmanaged switches that offer 8 ports, optionally with or without PoE, as the perfectly coordinated and cost-effective basis for straightforward, smaller network environments such as offices, business premises or home offices.
Do the switches have redundancy mechanisms to increase operational reliability?
Yes. Managed and websmart switches from LANCOM support the rapid spanning tree protocol as defined in the IEEE 802.1w standard. This protocol initially prioritizes the fastest route in the network by deactivating slower redundant paths. If the prioritized route should fail the redundant paths are reactivated, providing data traffic with alternative routes and compensating seamlessly for the failure.
What is "virtual stacking" and what advantages does it offer?
Virtual stacking collects multiple devices under a single IP address, which is then used to manage all of the devices at once. Single-IP management of this type simplifies administration as multiple switches can be configured from a single login. The LANCOM virtual stacking management integrated into our managed switches supports up to 16 switches.
Can PoE devices from other vendors be connected to LANCOM switches?
LANCOM switches support all devices compliant with the IEEE 802.3af or IEEE 802.3at standards.
Do you have further questions about this product or want a personal contact?
LANCOM Presales Team
Phone: +49 2405 / 49 93 6-260


Do you need help with the configuration of our products?
In our Knowledge Base you can find help and precise instructions on how to use all LANCOM products. For more professional assistance visit our Support portal: