The LANCOM Management Cloud is the world's first hyper-integrated management system that intelligently organizes, optimizes and controls your entire network architecture. State-of-the-art software-defined networking technology drastically simplifies the provision of integrated networks – the manual configuration of individual devices has become a thing of the past.
Hyper integration explained in 2 minutes
Experience network management of the future, your system for highest savings in time and costs!
Control of the entire network by one system
Radically simplified & automated configuration
Available as a Public Cloud and Private Cloud
Unsurpassed scalability for networks of any size
Unique system for maximum savings in time and costs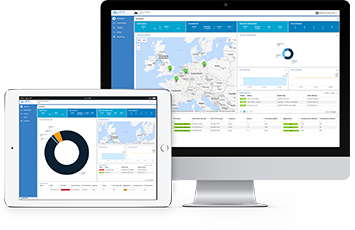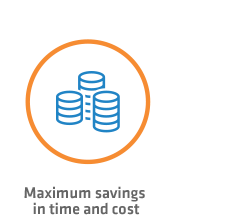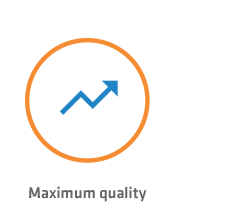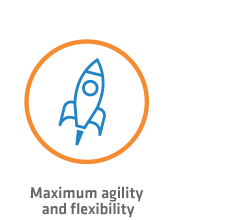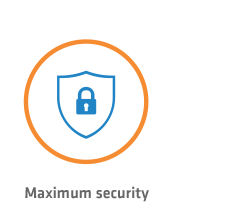 This is Hyper Integration
State-of-the-art technology
The LANCOM Management Cloud, based on software-defined networking technology, replaces the formerly manual device configuration by automated network orchestration. All the administrator has to do is specify the general framework of the network design. Administrative tasks that previously took hours or days to complete are now taken care of within minutes or a few clicks.
The combination of SD-WAN, SD-LAN & SD-WLAN
All current LANCOM devices, including routers, gateways, switches, and access points, support SDN technology. This lays down the cornerstone for a new dimension of network management with the LANCOM Management Cloud: For all of the components, the configurations are centrally and automatically compiled and rolled out.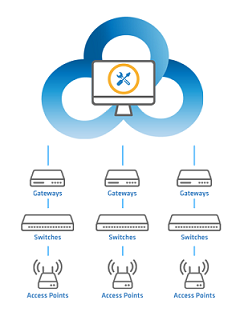 SD-WAN SD-WAN automatically and dynamically creates secure IPSec VPN connections between sites, including network virtualization across the wide-area network (WAN). A mouse click
is all it takes to enable the VPN function and select the required VLANs for each site. The laborious individual configuration of the two tunnel endpoints is simply no longer required.
SD-LAN SD-LAN orchestrates the port profiles for each switch and automatically assigns the necessary network configuration, e.g. the required VLANs. At the click of a mouse, switch configurations that are fully customized for the access points and routers at each site are rolled-out or
updated simultaneously.
SD-WLAN SD-WLAN facilitates the automatic configuration of multiple WLANs (multi-SSID), including for example the separation of hotspot networks. All that needs to be specified here is the SSID authentication method and, if required, the bandwidth restrictions for each WLAN. The WLAN profiles created in this way are rolled out or updated on any number of access points and WLAN routers at the different sites – simply by mouse click.
A reliable premium portfolio
The LANCOM Management Cloud enables the management of the entire network infrastructure via just one system. This alone is exceptional by itself! However, the solution can do even more: With a simple firmware update, the full range of products – established for years and perfectly aligned – is made "Cloud-ready". You even easily integrate already installed infrastructures into the management system – without replacing hardware. This way the solution provides you highest investment protection and maximum reliability for the future.
Gateways / Routers
For VDSL, ADSL, fiber, LTE / 4G
IPSec VPN site connectivity
Secure network virtualization by ARF
Access Points
For indoor, industrial, and outdoor use
Highspeed IEEE 802.11ac support
Wireless ePaper & iBeacon
Highly integrated network scenarios
The unique combination of state-of-the-art technology and the LANCOM premium portfolio creates the world's first management system for setting up highly integrated, company-wide network scenarios: Interconnect e.g. sites, home offices, and remote workers. Define Wi-Fi networks for internal user groups or hotspots for guests – with just a few clicks, centrally designed, rolled out, and monitored. This is your management of the future, your system for highest savings in time and costs!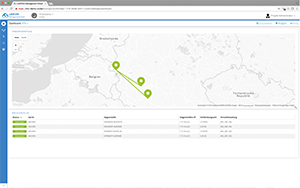 WAN scenarios
Auto-IPSec VPN
Stateful inspection firewall
Network virtualization (ARF, VLAN)
WAN load balancing
Traffic prioritization (QoS)
Web content filtering
IP ISDN gateway + SBC
Full IPv4/IPv6 support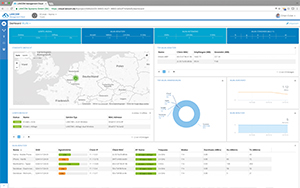 Wi-Fi scenarios
RF Optimization
Spectral Scan
Band Steering
Strong encryption (WPA, WPA2)
IEEE 802.1X access control (NAC)
Full hotspot integration
Multi-SSID & network virtualization
Fast Roaming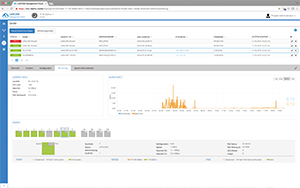 LAN scenarios
IEEE 802.1X access control (NAC)
Full IPv4/IPv6 support
PoE management & monitoring
Traffic prioritization (QoS)
Network virtualization (VLAN)
Link aggregation
Energy-efficient Ethernet
Scenarios - for networks of any size
Single site – small businesses
If you run a small business at a single site, the LANCOM Management Cloud offers you top-class network management. In no time at all you integrate the whole of your LANCOM infrastructure, including access points, switches and routers, and the Public Cloud offers you the easy and central management of your network. Be it for high-speed Internet access, setting up WLAN profiles, or integrating new devices—the LANCOM Management Cloud meets all your needs. And best of all: the LMC grows with you, so there's always room to spare when you extend your infrastructure.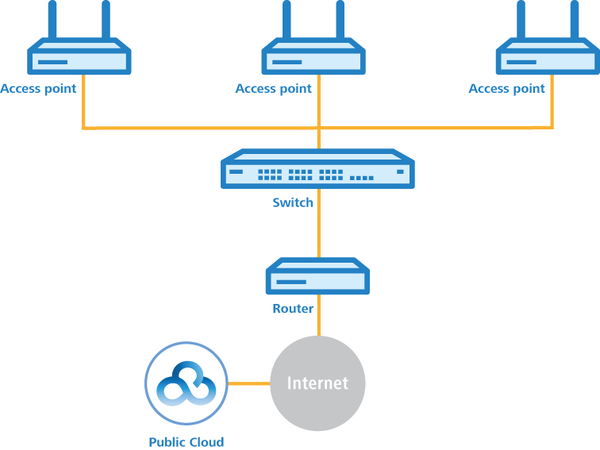 Multi site – medium-sized enterprises with several sites
Companies operating at several sites have high expectations of their network infrastructure. It should securely interconnect all of the sites, and its management should be efficient and centralized. The LANCOM Management Cloud meets these needs and offers an outstanding user experience. Be it for high-speed Internet access, setting up WLAN profiles, or integrating new devices—once configured, the processes are fully automated and sites are securely connected via auto-IPSec VPN. Centralized management is offered not only by the Public Cloud, but alternatively by the Private or self-hosted versions—it's up to you where you want to host your data.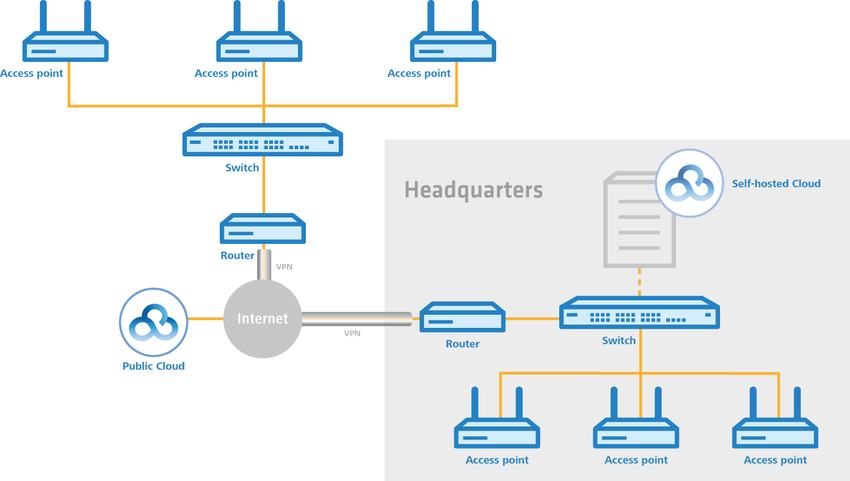 Large-scale enterprises – extensive distributed networks
For large companies with numerous dispersed sites, the LANCOM Management Cloud solution offers easy and efficient network management of the highest order. The LMC offers the central and user-friendly handling of complex networks. Be it multi-VPN site connectivity via the highly scalable LANCOM vRouters, high-speed Internet access for all connections, zero-touch integration of switches & access points, or the easy set-up of one or more WLAN profiles—the LANCOM Management Cloud adapts itself perfectly to your network infrastructure. Automated workflows and central management via the Private / self-hosted cloud in your own data center offer you maximum control, massive time savings, and flexible expansion options.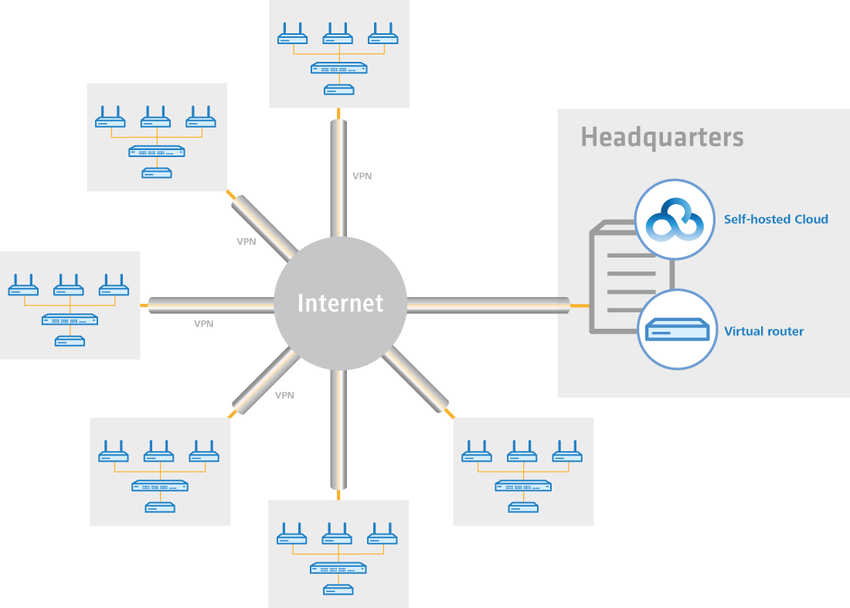 Six good reasons for the LANCOM Management Cloud
Security made in Germany
Gateways, routers, access points, the LCOS operating system, and the LANCOM Management Cloud are developed and manufactured in Germany. With the Public Cloud hosted in Germany, data security and legally compliant handling are guaranteed.
One system for all components
All LANCOM gateways, routers, switches, access points, and virtual LANCOM routers (vRouters) are centrally configured, and uniformly controlled and monitored.
A system that is perfectly scalable
The LANCOM Management Cloud meets any demand, from small networks right up to enterprise-scale installations. Management is easy and smart throughout: Applications can be assigned to any number of sites.
Multitenancy
The LANCOM Management Cloud supports the management of any number of projects. It is also very easy to switch between individual projects for immediate visibility of current and past network events.
Security of investment
LANCOM devices currently in operation become Cloud-ready with a simple firmware update – no hardware replacements required! They can at any time be reassigned to different projects, and you can even return them to conventional configuration and operation again.
Your operating model? Your choice!
The LANCOM Mangagement Cloud is available now as a "Public Cloud" variant hosted in Germany, as a "Private Cloud" variant hosted by any systems vendor, or located at the end customer's own premises.
Sales Contact
Would you like to learn more about the LANCOM Management Cloud? We would be happy to advise you.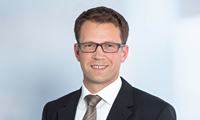 Your Contact
Robert Beckmann
Inside Sales International
Telephone: +49 (0)2405 49936 276