LANCOM IAP-4G+
This router is the ideal solution for reliable Internet in tough environ­ments such as in warehousing and logistics, or for covered outdoor areas without a wired Internet connection. The extremely robust housing is highly dust proof and is suitable for temperatures from -20 to 50°C. With integrated IPSec VPN functionality and an integrated LTE-Advanced modem for up to 300 Mbps, this device provides professional site connectivity via cellular networking and fast data transfer—ideal for connecting automated systems, machines, and surveillance equipment.
Cellular router with integrated LTE-Advanced modem for data rates of up to 300 Mbps
Robust IP50 all-metal housing for maximum reliability in harsh environments
Reliable even at demanding temperatures (-20°C to +50°C)
Secure site connectivity with 5 simultaneous IPSec VPN connections (25 channels optional)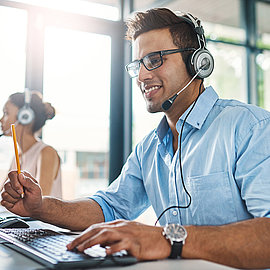 Most questions can be resolved best in direct contact: We look forward to answering your questions and requests by phone or via the contact form.
Inside Sales International Team
+49 (0)2405 49936 122