AirLancer ON-T360ag
The weatherproof AirLancer ON-T360ag omni-directional antenna provides effective WLAN over wide areas. Mounted centrally, it is ideal for 360° coverage. Thanks to 3x3 MIMO, it offers maximum performance for the WLAN standard IEEE 802.11ac with up to 1,300 Mbps. It is ideal in combination with dual-radio access points to offer parallel operation at 5 GHz with 2x2 MIMO and 2.4 GHz with 1x1 MIMO.
2x2 + 1x1 MIMO operation with LANCOM dual-radio access points for parallel operation at 2.4 and 5 GHz
Mounting kit, cables, and adapters included
Connects to LANCOM indoor access points via the adapter AirLancer AN-RPSMA-NJ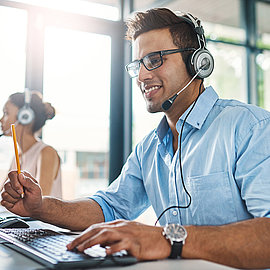 Most questions can be resolved best in direct contact: We look forward to answering your questions and requests by phone or via the contact form.
Inside Sales International Team
+49 (0)2405 49936 122