Wi-Fi data rates
The data rates supported by access points are based on the use of Modulation and Coding Schemes (MCS). The higher the used MCS, the higher the achievable gross data rate. In net terms, i.e. in practice, clients with higher MCSs can be served with large amounts of data more quickly and thus more clients can be served simultaneously. Use our practical tool to find out which data rates can be achieved depending on the Wi-⁠Fi standard, number of (MU-)MIMO streams, and channel widths.
The displayed figures correspond to the defined, maximum gross data rates of the respective Wi-Fi standards. They show the technically maximum data rate with which clients of the respective category can be served. In 2.4 GHz operation, a usable channel width of only 20 MHz rather than 40 MHz should be expected as a realistic operating assumption.
In practice, however, the achievable net throughputs for data transport are significantly lower, since the management traffic of the connection must also be taken into account in addition to the packet header overhead. Also, several access points and clients usually share the transmission time in the air at the same time. In addition, these often compete with other coexistent wireless technologies and systems such as Bluetooth, ZigBee, and DECT in the form of headsets, cameras, telephones, or other audio and video transmission systems, which further reduces the achievable net throughputs.
Note: The use of Wi-Fi 5 data rates (IEEE 802.11ac) is only defined in the 5 GHz frequency band according to the standard. In the 2.4 GHz frequency band, Wi-Fi 5 devices continue to use the backward-compatible Wi-Fi 4 data rates.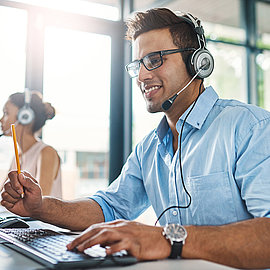 Most questions can be resolved best in direct contact: We look forward to answering your questions and requests by phone or via the contact form.
Inside Sales International Team
+49 (0)2405 49936 122