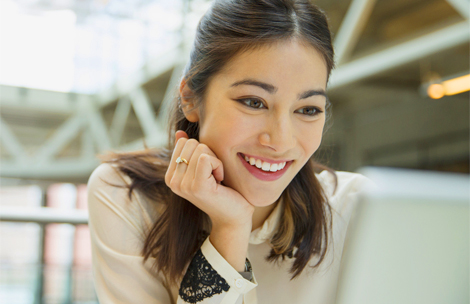 where high performance and wireless freedom meet
WLAN standard IEEE 802.11ac is the benchmark for a unique high-performance WLAN experience. It offers enough bandwidth even for the growing number of modern devices in diverse areas of the company and thus combines maximum flexibility with the speed of wired networks.
With IEEE 802.11ac companies are ideally equipped for modern applications. On the one hand, you benefit from the highest bandwidth and on the other, high-performance WLAN offers many different advantages, such as:
High-speed connection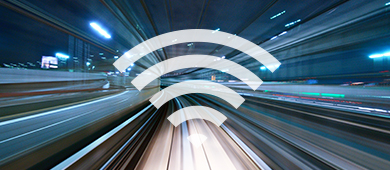 LANCOM access points with 11ac support are equipped with two WLAN radio modules. Therefore, both 11n clients (via 2.4 GHz) and the modern 11ac clients (via 5 GHz) can be provided with high-speed WLAN and the increasing demand for bandwidth of current clients is well covered. On top of that, LANCOM access points with IEEE 802.11ac are fully backwards compatible to older WLAN standards as 802.11a/b/g/n.
Increased battery lifetime for mobile clients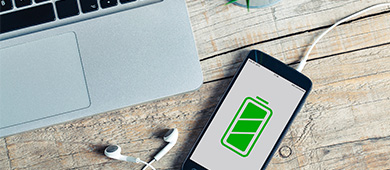 Thanks to the new standard IEEE 802.11ac data transmissions for 11ac-capable end devices with 1x1 MIMO is accelerated to up to 433 Mbps. This increase in speed is a big surplus especially for mobile clients such as tablet PCs or smart phones since the significantly shorter data transmission time leads to an increased battery lifetime.
All-wireless office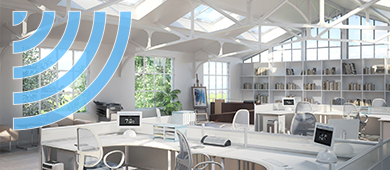 Thanks to IEEE 802.11ac the possible performance of WLAN networks has launched into a new dimension. Thus, offices can be networked completely wirelessly – with the Gigabit speed of a wired network. Another advantage: The time- and cost-intensive wiring of offices belongs to the past.
Modern corporate applications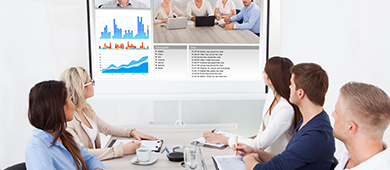 Applications with a high demand for bandwidth, so far only realizable via stationary cable networks, are now wireless and flexible due to the new WLAN standard. As a consequence, you can, for example, arrange telepresence applications location-independently without any loss of quality.
A massive leap of performance in the evolution of WLAN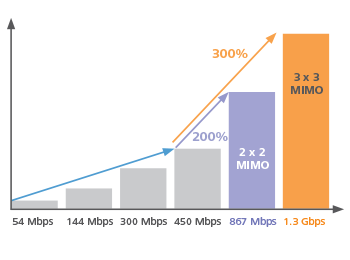 In comparison to its predecessor IEEE 802.11n, the standard 802.11ac transmits exclusively at 5 GHz, with the benefit of more free, non-overlapping channels in contrast to the 2.4 GHz frequency band. This and other extensions, such as 80 MHz wide channels, lead to a gain of performance of close to 300%.
How does this gain of performance come about?
IEEE 802.11ac doubles the bandwidth from 40 MHz to 80 MHz, resulting in more than twice the overall performance for each radio module.
1. Double the bandwidth:

2. More efficient modulation: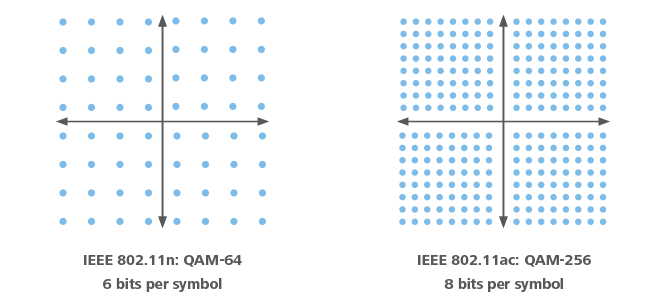 3. 2x2 MIMO - 2 spatial streams or 3x3 MIMO - 3 spatial streams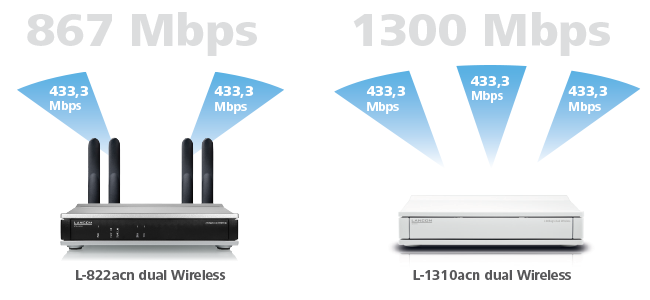 Due to the wider 80 MHz radio channels and the more efficient modulation based on QAM-256, the resulting gross data rate per spatial stream is 433.3 Mbps. LANCOM offers several ac access points, including 2x2 MIMO access points with 2 spatial streams for an overall performance of 867 Mbps and 3x3 MIMO access points with three spatial streams for an overall performance of 1,300 Mbps.
Consequently, the following calculation applies for the IEEE 802.11ac overall performance: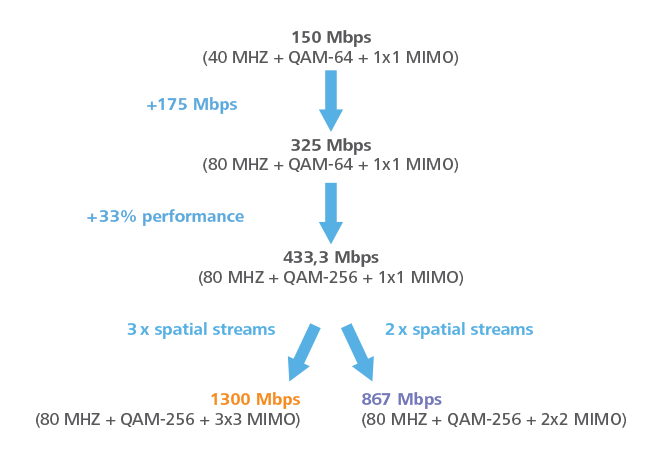 The new standard IEEE 802.11ac uses the modulation scheme QAM-256, whereas IEEE 802.11n supports QAM-64. QAM-256 enables a more efficient data transmission: QAM-64 provides 6 bits per symbol, QAM-256 provides 8 bits. As a result, data transmission speed is increased by 33%!
The second phase ("Wave 2") of the standard's introduction produces further functions that increase the overall gross data rate while at the same time improving on efficiency.
4 x 4 MIMO
The enhancement of MIMO to 4x4 with up to four spatial streams is a logical step towards expanding the capacities provided by IEEE 802.11ac. The gross data rate can be improved by a further 33% with 4x4 MIMO.
Multi-User MIMO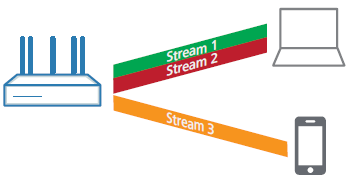 Multi-user MIMO (MU-MIMO for short) allows the spatial streams of an access point to be shared between different clients. Normal MIMO allows the use of only a single MIMO configuration. With MU-MIMO, several clients can be provisioned simultaneously, and the overall bandwidth available for parallel data transmission is increased. For example, MU-MIMO enables an access point with 3x3 MIMO to divide its three spatial streams in parallel between a 2x2 MIMO client and a 1x1 MIMO client (such as a notebook or smart phone).
Double channel width: 160 MHz
A further increase of channel width up to 160 MHz doubles the performance yet again. This is implemented either with a single 160 MHz channel or by combining two directly adjacent 80 MHz channels in order to achieve the corresponding performance.
Beamforming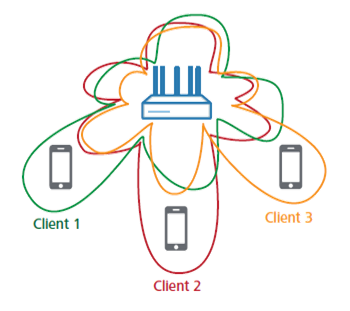 Beamforming enables an access point to control the strength of the signal in relation to the direction. For example, certain clients can be offered a particularly good connection while the other clients not using the signals are subjected to less interference. In combination with MU-MIMO, the various clients receive dedicated spatial streams with a minimum of interference, which has a positive influence on the available gross data rates for all of the clients.
High-speed connection for all clients
LANCOM access points with 11ac support are equipped with two WLAN radio modules. This way, both 11n clients (via 2.4 GHz) and the increasing number of modern 11ac clients (via 5 GHz) can be provided with high-speed WLAN. On top of that, LANCOM access points with IEEE 802.11ac are fully backwards compatible to older WLAN standards. Therefore, all clients supporting 5 GHz can be automatically steered towards this high-performance frequency band via Band Steering.

11ac clients in the field
Even today there are already hundreds of milliions 11ac-capable smartphones, tablets, and notebooks in the field - and counting! It can be expected that future client generations will be equipped with IEEE 802.11ac support by default, just like it was the case during the introduction of the preceeding standard 11n.
Today's 11ac smartphones support 1x1 MIMO and thus use 1 spatial stream with max. 433.3 Mbps. 11ac notebooks, on the other hand, support 2x2 or even 3x3 MIMO for up to 866.6 Mbps, respectively full 1.3 Gbps.

Migration
You want to operate the WLAN standard IEEE 802.11ac in your enterprise? The following guidelines will help you preparing a successful migration.
Infrastructure components
For a migration to IEEE 802.11ac an exchange of the applied access points is mandatory. On top of that, you should make sure that your wired infrastructure components are also 11ac-ready.
Switches
In order to guarantee a flawless data tranfer, the applied switches have to be equipped with at least 1 Gbps uplink ports. For applications with very high data rates even 10 Gbps are recommended. For a power supply of the 11ac access points via Power over Ethernet the switches have to support IEEE 802.3at on all ports. The scope of features and performance is limited during PoE operations via IEEE 802.3af.
WLAN controllers
11ac access points provide more bandwidth for an increasing number of WLAN clients - both for 11ac clients and for older 11n clients. For an efficient management of these mixed client environments, a high-performance and intelligent WLAN controller is required. Due to LANCOM Active Radio Control, including Client Steering for an intelligent steering of clients towards to optimal access points, LANCOM WLAN controllers optimize the radio field sustainably and improve the throughput for all clients. Thanks to the LANCOM Smart WLAN controller technology the user data is locally stored at the access point and does not have to be transmitted via the controller. Therefore, the WLC does not become a bottleneck even during large data transfers and high-speed transmissions.
Access points
In the medium term, 11n clients will still be operated in enterprises alongside modern 11ac clients. Hence, the application of access points with two WLAN modules is recommended for a simultaneous operation at 2.4 GHz for connecting older 11n clients and 5 GHz for both 11ac and 5 GHz-capable 11n clients.
More information about frequently asked questions, please see our IEE 802.11ac FAQ.
Project inquiry
Would you like to learn more about technologies from LANCOM? We would be happy to advise you.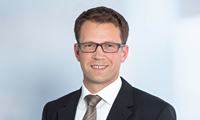 Your Contact
Robert Beckmann
Inside Sales International
Phone: +49 (0)2405 49936 276