LANCOM Wireless ePaper technology
LANCOM Wireless ePaper technology gives any environment a modern and attractive look. The combination of parallel operation of radio-controlled ePaper Displays and the provision of wireless LAN via a single access point (co-existence) is unique on the market, and saves the cost of operating multiple devices. Thanks to this optimal combination of single components, the seamless and parallel operation of all radio applications is guaranteed.
Maximum avoidance of interferences
Thanks to the optimally synchronized technology in the LANCOM access points of the E series, the trouble-free and parallel operation of WLAN, the radio-based update of LANCOM Wireless ePaper Displays, and iBeacon technology is guaranteed.
LANCOM Wireless ePaper Displays grant a flicker-free view from any angle. As a result the contents are always perfectly readable in ambient light. In addition to that, the Wireless ePaper technology requires very little energy since it only requires power when the display content is changed.
The entire infrastructure from a single source
With the special LANCOM E-series access points, matching displays and the server license, customers get a complete solution for professional Wi-Fi coverage and, at the same time, wireless updates of radio-controlled LANCOM Wireless ePaper Displays. The entire infrastructure is from a single source, so that no separate devices for Wi-Fi applications and the control of Wireless ePaper Displays need to be obtained. This innovative integration of both radio applications into one device not only ensures the lowest operating and installation costs, but also the security that the two 2.4 GHz radio technologies can operate in parallel without interferences.
Centrally controlled, innovative room signage
LANCOM Wireless ePaper Displays are controlled centrally via a convenient software. Thanks to appropriate interfaces, data for room signage is automatically transferred from the calendar management system (Exchange, Domino, Google Calender, Office 365). For example, the current appointment as well as follow-up appointments can be displayed including times and participants. Thus, signage, e.g. of meeting rooms, is always up to date, offers genuine informational value and creates full transparency.
Central price labeling within seconds
In retail, price labeling can be controlled from the central ERP system - almost in real time and across all sites. This allows dynamic pricing models such as best-price guarantees or promotional prices for perishable goods to be offered to the end consumer - ideal for retail profitability.
LANCOM Wireless ePaper Displays in action
The special LANCOM access points of the E series are capable of updating LANCOM Wireless ePaper Displays as well as providing professional WLAN. Thus, these innovative displays can be integrated seamlessly into the existing network infrastructure. This is the ideal and unique combination for lean and efficient infrastructures.
Do you still have questions? You can find more information about Wireless ePaper solutions on our FAQ page.
Digital Signage with LANCOM
Door signs, price labels, shelf labels, menu cards – information that used to have to be laboriously put on paper and continuously updated can now be transmitted quickly, standardized, and automated with digital signage. As electronic shelf labels, digital advertising posters or menus, and electronic door signs for meeting rooms, classrooms, and treatment rooms, the wireless ePaper displays from LANCOM can be effortlessly integrated into the WLAN and synchronized with calendar and merchandise management systems.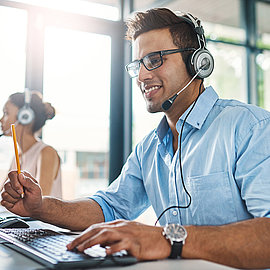 You have questions about our products or solutions, or are you looking for a LANCOM sales partner? Then let us know your wishes via contact form or feel free to contact us by phone.

Inside Sales International Team
+49 (0)2405 49936 122