LCOS LX Release
For even more convenience in the LANCOM Management Cloud
LCOS LX 5.38 offers new features and improvements for your LCOS LX-based access points. So direct and securely encrypted access to WEBconfig and the command line interface of your devices via the LANCOM Management Cloud offers a plus for your network diagnostic activities.
You will find the current LCOS LX release version as well as all active predecessor releases in our download portal. Simply enter your desired product and download the software free of charge!
Software lifecycle management
With LANCOM Systems you have a manu­facturer at your side who offers unparalleled investment protection. The lifecycle policies from LANCOM also provide full transparency and reliable planning with regard to the firmware updates and product support for your LANCOM infrastructure.
LANCOM software release process
Our aim is the optimal preparation of our in-house operating systems LCOS, LCOS SX, LCOS LX, and LCOS FX and other software, not only for its use in practice, but also to adapt it to the wishes of our customers. This is why we enter into active dialog with our customers even during the development phase as part of our release procedure.
Please note: Before any LCOS LX update, be sure to backup your current device configuration. Devices featuring the "Firmsafe" function have the option of an initial "test mode" firmware upload. The new firmware is activated permanently only if the device has been accessed with a log-in or for configuration purposes before the pre-set time period has expired. Otherwise, the device switches back to its former version.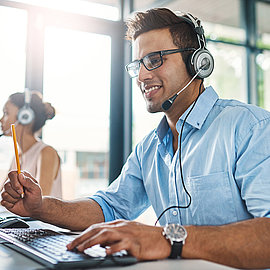 Most questions can be resolved best in direct contact: We look forward to answering your questions and requests by phone or via the contact form.
Inside Sales International Team
+49 (0)2405 49936 122