LANCOM 1784VA
The LANCOM 1784VA is the ideal device for high-speed VDSL connections at 100 Mbps and professional telephony with maximum security for site networking in small and medium-sized enterprises in all industries and fields of application. Equipped with four ISDN ports, it also allows the continued operation of existing ISDN telephony components on IP-based connections (All-IP), especially at sites with former ISDN system connections. The right choice for secure, reliable, and future-proof network solutions "Engineered in Germany".
SD-WAN VoIP gateway for the continued operation of existing ISDN components after converting to All-IP
Professional telephony functions with the integrated LANCOM VCM (Voice Call Manager) & SBC (Session Border Controller)
Flexible professional router for high-speed Internet access thanks to VDSL2 and ADSL2+ modem
4x internal ISDN connections for the connection to PBX systems with up to 4 S0 connections (2x NT and 2x TE/NT
Up to 8 simultaneous ISDN voice channels
5 IPSec VPN channels (25 optional) for professional and secure site connectivity
Maximum future viability, reliability, and security "Engineered in Germany"
Continued use of existing ISDN and analog components
The LANCOM 1784VA translates between ISDN, analog, and VoIP. Along with current VoIP equipment, you can continue to operate your existing ISDN and analog components without having to replace them - a cost-saving and professional solution, as the LANCOM 1784VA with its four ISDN interfaces is ideal for locations with former ISDN connections. Already existing telephony systems can still be operated with new SIP trunk connections.
Professional telephony with the LANCOM VCM (Voice Call Manager)
The LANCOM Voice Call Manager is already integrated into the LANCOM 1784VA and provides advanced telephony support. It handles the telephony management and controls all of the PBX components and functions of the router.
Integrated Session Border Controller
The LANCOM Voice Call Manager provides common functionalities of a Session Border Controller: For instance, it enables the secure separation of external (insecure) and internal (secure) networks. Ensuring a high voice quality, voice packets are preferred due to bandwidth reservation (Quality of Service). On top of that, the VCM as a SIP proxy enables the professional management of signaling and voice data for a high security during establishment, processing, and termination of phone calls. - including the necessary conversion of protocols via transcoding.
High-speed Internet access
The LANCOM 1784VA is a professional, high-performance SD-WAN gateway for high-speed Internet access with its integrated VDSL2/ADSL2+ modem. Thus it offers maximum flexibility for the transition from ADSL to the high-speed Internet with VDSL - thanks to VDSL2 Vectoring support offering up to 100 Mbps.
LANCOM SD-WAN – Next-level networking
With LANCOM SD-WAN you can manage and monitor your entire corporate network centrally, cost-effectively, quickly, and stress-free! In combination with the LANCOM Management Cloud, the SD-WAN gateway gives you all the options for an automated setup of secure VPN connections (Auto-VPN) between sites, including network virtualization. Highlight features such as High Scalability VPN (HSVPN) and Advanced Mesh VPN offer you a significant plus in scalability and efficiency for a large number of branches and applications. Furthermore, if multiple WAN connections are defined, they are automatically operated in active/active mode (load balancing), thereby increasing the available total bandwidth. With Dynamic Path Selection and Dynamic Traffic Steering, applications are also dynamically routed via the best connection at any given time.
Secure communication via VPN
With virtual private networks (VPN), you use the public medium of the Internet as a communication path and secure the connection in such a way that the communication still remains completely inaccessible to external parties. This SD-WAN gateway offers you five integrated IPSec VPN channels for secure encryption, so that the protection of internal company data is always guaranteed when connecting mobile employees, home offices, or branch offices. With the LANCOM VPN Option, you can also upgrade the device to up to 25 VPN channels, so that the infrastructure can easily grow with your needs without additional hardware.
Maximum future-proofing and digital sovereignty
As an established German manufacturer of IT network solutions, LANCOM stands for reliability and know-how. Software and hardware development as well as production take place primarily in Germany, as does the hosting of the network management. Special attention is given to providing trusted solutions with outstanding security features. Another important security characteristic of the products is that they are free from backdoors, as awarded by the German Federal Ministry of Economy with the quality seal "IT Security made in Germany". All devices are always equipped with with hardware that is dimensioned for the future. Even across product generations, updates to the LANCOM operating system family LCOS are available several times a year, free of charge. his guarantees a long service life while staying technically up to date, which represents a true protection of your investment. In addition, LANCOM infrastructures are easily scalable thanks to maximum compatibility.
Bearer of the IT Security Label (BSI)
The LANCOM 1784VA meets the strict security requirements of the German Federal Office for Information Security (BSI) and bears the IT Security Label.
The IT Security Label gives end users the opportunity to inform themselves about security functionalities assured by manufacturers for networked, Internet-enabled products and services.
LANCOM Trusted Access – Cloud-managed Remote Access
What does modern secure remote access look like? And how can the Zero Trust principle be integrated into your own system infrastructure? LANCOM Trusted Access (LTA) is the flexible, highly scalable solution for securely implementing modern hybrid working from anywhere and at any time and controlling it centrally and securely via cloud management.
You can find more information about LANCOM Trusted Access on the product page or in the onboarding program for sales and technicians.
Find out how to get started today!
Site networking with LANCOM SD-WAN
Improved network availability, higher bandwidths, and maximum data security – the demands on companies are constantly growing. Services must be available in the same quality at all locations at all times. With your SD-WAN-capable LANCOM device, you have already taken the first step on the path to highly scalable, efficient, and secure networking of distributed corporate sites. In combination with the LANCOM Management Cloud, this gives you a solution that is unique on the market.
We show you the unbeatable benefits for LANCOM SD-WAN in our SD-WAN video or on the topic web page:
3 years hardware warranty
Technical manufacturer support as part of a support contract
(LANcommunity partner, LANcare Direct, or LANcare Premium Support)
Click below to get more information as well as the item numbers for convenient additional booking.

…
Click below to get more information as well as the item numbers for convenient additional booking.
Notes: Times are given in hours (h) or minutes (m) per days (d). The products are available for different service categories (S, M, L, XL) as well as validity and can be easily added using the item numbers.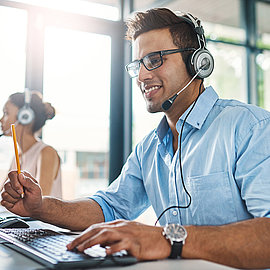 Most questions can be resolved best in direct contact: We look forward to answering your questions and requests by phone or via the contact form.
Inside Sales International Team
+49 (0)2405 49936 122